Orange, Icewine & Chocolate Layer Cake
Autumn 2013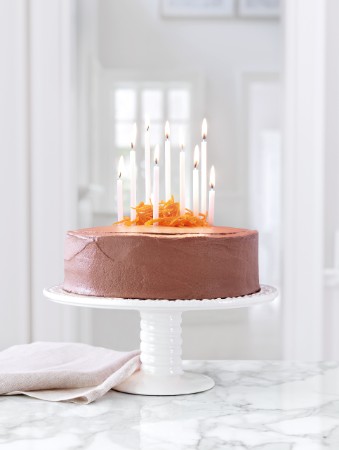 Orange, Icewine & Chocolate Layer Cake
Autumn 2013
BY: Jennifer MacKenzie
There are several steps to making this cake but the final result is certainly worthy of a special occasion. A stand mixer is best for making the buttercream because of the long beating time and gradual addition of the butter, but you can use a hand mixer if necessary. The cake layers can be wrapped once completely cooled and stored at room temperature for up to one day before assembling the cake. The buttercream is best used as soon as you make it.
CAKE
2 medium oranges
½ cup (125 mL) icewine
1 cup (250 mL) milk, at room temperature
2⅓ cups (580 mL) all-purpose flour
1 tbsp (15 mL) baking powder
1 tsp (5 mL) salt
¼ tsp (1 mL) baking soda
1 cup (250 mL) unsalted butter, softened
1½ cups (375 mL) granulated sugar
3 eggs, at room temperature
1 tbsp (15 mL) vanilla

BUTTERCREAM FROSTING & FILLING
8 oz (250 g) 70 to 72% dark chocolate, chopped
⅓ cup (80 mL) whipping cream
3 egg whites
¾ cup (175 mL) granulated sugar
Pinch salt
1 tsp (5 mL) vanilla
1¼ cups (310 mL) unsalted butter, cut into ½-inch (1-cm) cubes, softened
2 tbsp (30 mL) icewine
1 Scrub oranges under warm running water. Using a sharp vegetable peeler, peel long, wide strips of zest from oranges being sure to avoid the white pith. Squeeze juice from oranges and set aside.

2 Bring icewine to a gentle simmer over medium-low heat in a small saucepan. Add strips of orange zest. Reduce heat to low, cover, leaving lid slightly ajar, and simmer stirring occasionally for about 25 minutes or until zest is soft and translucent. Strain through a fine sieve, reserving poaching syrup. Let zest cool completely.

3 Finely chop enough of the zest to measure 2 tbsp (30 mL). Wrap remaining zest in plastic wrap and reserve for garnish.

4 Preheat oven to 350°F (180°C).

5 Grease the sides of two 9-inch (23-cm) round cake pans and line bottoms with parchment paper.

6 Stir ¼ cup (60 mL) orange juice into milk and set aside. Combine flour, baking powder, salt and baking soda in a bowl using a whisk. In a separate bowl, using electric mixer with paddle or beaters (for a hand mixer), beat butter and sugar until fluffy. Beat in eggs, 1 at a time, scraping down sides of the bowl often. Beat in chopped orange zest and vanilla. Using a rubber spatula, stir in flour mixture alternately with milk mixture, making 3 additions of flour and 2 of milk. Divide batter equally and spread into prepared pans, smoothing tops.

7 Bake for about 30 minutes or until tester inserted in the centre comes out clean. Let cool in pan on a rack for 15 minutes. Run a knife around edges, invert onto wire racks and peel off paper. Let cool completely.

8 For the frosting, place 5 oz (150 g) of the chocolate in a small heatproof bowl and set over a saucepan of hot (not boiling) water and melt, stirring until smooth. Set aside to cool to room temperature.

9 For the ganache filling, heat whipping cream in a small saucepan over medium heat just until bubbles form around the edge of pan. Remove from heat and add remaining 3 oz (90 g) chocolate. Whisk until blended to make ganache. Transfer to a bowl, set aside to cool to room temperature.

10 Whisk together egg whites, sugar and salt in the metal bowl of a stand mixer or a large heatproof bowl (to use a hand mixer). Set bowl over a saucepan of simmering water (do not let bottom of the bowl touch the water) and heat, whisking constantly, for about 3 minutes or until sugar is dissolved and mixture is warm to the touch. Attach to mixer with whisk attachment (or beaters for hand mixer) and beat on medium speed for about 15 minutes or until thick and completely cool. Beat in vanilla. Add butter, 3 cubes at a time, beating constantly and making sure butter is incorporated between each addition, until buttercream is fluffy and smooth (as you add butter, the mixture will thin out then thicken up and get creamy again). Add melted chocolate and beat on medium-low speed until incorporated.

11 Transfer ¾ cup (175 mL) of the buttercream to the ganache and fold until blended for the filling. Beat icewine into remaining buttercream for the frosting.

12 To assemble, stir enough of the reserved orange juice into reserved poaching syrup to make 3 tbsp (45 mL). Place 1 cake layer with the smooth, bottom side facing up on serving plate and brush with half of the syrup. Re-invert remaining cake layer (so the smooth side is down) and brush the top with remaining syrup.

13 Spread ganache buttercream filling over the bottom layer of cake on the serving plate. Invert remaining cake layer so the smooth side is on top and press lightly. Spread sides and top of cake with buttercream frosting. Refrigerate until just set, about 1 hour, or for up to 1 day. If cake is cold, let warm at room temperature for about 30 minutes before serving.

14 Just before serving, twist or very thinly slice remaining orange zest and garnish top of cake. Cut into slices with a large, warmed knife.
SHARE