Ontario Strawberry & Basil Ice Cream
Early Summer 2019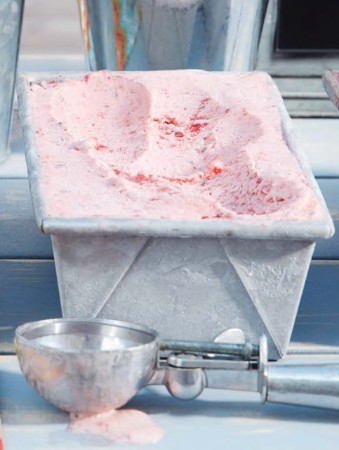 Ontario Strawberry & Basil Ice Cream
Early Summer 2019
BY: Christopher St. Onge
Fragrant early-season Ontario strawberries are the best! You shouldn't mask their flavour in an eggy custard-based ice cream. Here, some of the egg is replaced with corn syrup, which lowers the freezing point of the cream and helps prevent ice crystals from forming, something homemade strawberry ice creams are prone to because of the moisture added by the berries themselves.
1 lb (455 g) strawberries, hulled
¾ cup (175 mL) sugar, divided
2 tsp (10 mL) lemon juice
1¼ cups (310 mL) whipping cream, divided
1 egg yolk
¼ cup (60 mL) corn syrup
1¼ cups (310 mL) whole milk
2 tbsp (30 mL) chopped basil leaves, preferably
Thai basil
1 Finely chop 6 strawberries and add to a bowl along with ¼ cup (60 mL) sugar and the lemon juice; set aside.

2 In a large heatproof bowl, whisk together the remaining ½ cup (125 mL) sugar, ½ cup (125.mL) whipping cream and egg yolk.

3 Whisk together corn syrup, remaining ¾.cup (175 mL) whipping cream and milk in a pot over medium heat. Once bubbling at edges, pour over egg mixture, whisking constantly. Let cool for 10 minutes, cover and chill for 2.hours.

4 When ready to churn, purée remaining strawberries in a blender; add basil and pulse until finely chopped. Stir into cream mixture. Pour into ice cream maker and prepare according to manufacturer's instructions. In the final few minutes; strain macerated strawberries (save the syrup for another use if desired) and add to the ice cream maker. Once evenly distributed, scrape the ice cream into an airtight container, and freeze until firm.
SHARE