Ontario Porter Ginger Chocolate Cake
Autumn 2014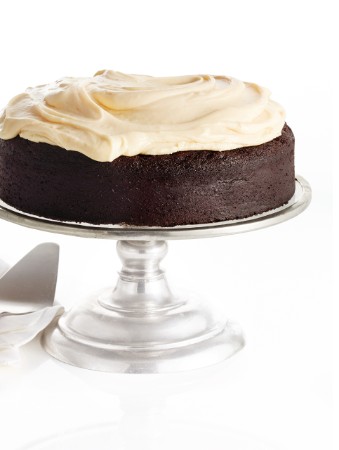 Ontario Porter Ginger Chocolate Cake
Autumn 2014
BY: Signe Langford
This cake is super-rich and as moist as a fudgy brownie, so be patient with the cooking time, and we suggest icing only the top of thecake—not the sides—it might just be too rich for some.
1 cup (250 mL) porter
1¼ cups (310 mL) butter, cut into tablespoon-size chunks, plus a little extra for buttering the pan
¾ cup (175 mL) unsweetened cocoa
2 tsp (10 mL) ground cinnamon
2 tsp (10 mL) ginger powder
2 cups (500 mL) sugar
½ cup (125 mL) full-fat sour cream
2 eggs
1 tbsp (15 mL) maple extract
2 cups (500 mL) all-purpose flour
2½ tsp (12 mL) baking soda
½ cup (125 mL) crystalized (candied) ginger, finely chopped
1 Preheat oven to 350°F (180°C).
2 Butter and line the bottom of a 9-inch (23‑cm) springform cake pan with parchment. Set aside.

3 Into a large saucepan over medium-low heat, add the porter and butter chunks, whisking gently. Once the butter is melted, add the cocoa, cinnamon, ginger powder and sugar and continue to whisk to blend completely. Remove from heat.

4 In a large bowl, beat together the sour cream, eggs and maple extract. When well combined, pour the egg mixture into the porter mixture—whisking briskly as you pour—to make sure the eggs don't scramble.

5 Whisk in the flour, baking soda and candied ginger.

6 Pour the batter into the springform pan; bake for about an hour, or until a pick stuck in the centre comes out clean.

7 When done, set pan on a cooling rack, and allow to cool completely in the pan. Do not attempt to unmould before it's completely cool; it may fall apart as it is very moist.
8 When the cake is completely cooled, run a knife between the cake and the pan; unmould and place it on a flat platter or pedestal for icing with our Maple Cream Cheese-Chèvre Frosting (recipe follows).

MAPLE CREAM CHEESE-CHÈVRE FROSTING

Between the sweetness of the cake and the sweetness of the frosting, we figured a bit of tanginess would offer a little balance, so we've added zingy chèvre to the mix.

⅓ cup (80 mL) butter, room temperature
½ cup (125 mL) full-fat cream cheese at room temperature
½ cup (125 mL) chèvre or soft, unripened goat cheese at room temperature
2½ cups (625 mL) icing sugar
1 tsp (5 mL) maple extract
1 In the bowl of a stand mixer or using a hand mixer and a large bowl, lightly whip the butter, cream cheese and goat cheese together until smooth.

2 Add the icing sugar and maple extract and continue to beat until creamy and spreadable. If your kitchen is very warm, the frosting may appear too runny, so you may want to chill the frosting in the fridge for a few minutes before icing the cake.

3 Use an offset spatula to ice the top of the cake. If desired, garnish with a sprinkle of maple sugar flakes, maple sugar candies,
shaved dark chocolate or more crystalized ginger.
SHARE