Ontario Charcuterie Board
Autumn 2015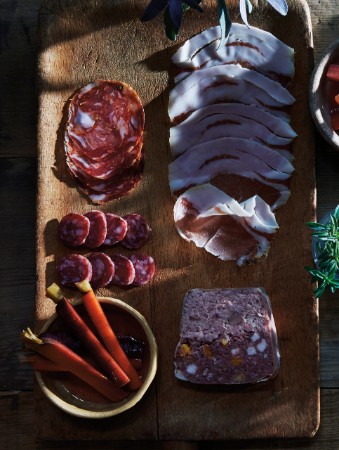 Ontario Charcuterie Board
Autumn 2015
BY: Christopher St. Onge
Ontario is now home to a dizzying array of excellent charcuterie. Every week, it seems, another new company gets in on the act and retailers are stocking ever more interesting artisanal products. When gathering your assortment of charcuterie, seek out the good stuff at specialty food shops and craft butchers. Keep in mind that some of your guests will prefer leaner cuts, while others will reach for the fattiest available to them. As well, be sure to include a couple of smoked examples for variety.
1½ lbs (750 g) of various thinly sliced Ontario charcuterie, such as lonza, guanciale, lardo, capocollo, both duck & ham prosciutto,
dry style chorizo, etc.
2 slices, each 5 oz (150 g), store-bought terrines
Maple Whiskey Mustard Caviar (recipe follows)
Pickled Heirloom Carrots, drained (recipe follows)
2 bias-cut, sliced baguettes, half of the slices toasted
1 Arrange groupings of sliced charcuterie on a large board or 2. Tuck terrine slices amongst the meats. Fill a small bowl or 2 with the mustard and place around board. Tuck pickled carrots and baguette slices in groupings around board.
CAVIAR

Making a homemade, whole-grain mustard is very simple, but you'll need to plan ahead as the mustard benefits from at least a week-long rest in the refrigerator. As with anything involving large amounts of spice, purchasing it fresh by visiting a store with high turnover is imperative here.

3 tbsp (45 mL) maple syrup
⅓ cup (80 mL) Canadian rye whisky
⅔ cup (150 mL) apple cider vinegar
1 tsp (5 mL) salt
½ cup (125 mL) yellow mustard seeds
2 tbsp (30 mL) brown mustard seeds
1 Combine maple syrup and rye in a small saucepan over medium heat. Bring to a boil and reduce to 2 tbsp (30 mL), about 4 minutes. Remove from heat, add vinegar and salt; stir to dissolve. Cool to room temperature.

2 Combine mustard seeds in a 1-cup (250‑mL) glass jar. Pour vinegar mixture over, stir and cover; refrigerate for at least 1 week. (Mustard will initially be quite bitter, but continues to mellow as it ages, for up to 1 month.) Mustard will keep, refrigerated, indefinitely.
Makes about 1 cup (250 mL)

PICKLED HEIRLOOM CARROTS

Because charcuterie tends to be fatty, tart pickles to cut through all that richness are a traditional accompaniment. These colourful carrots match the colours outside on the trees.

1 lb (500 g) medium-size carrots, preferably a mix of orange, red and purple
4 cloves garlic, peeled
1 cup (250 mL) white vinegar
¼ cup (60 mL) cider vinegar
1 cup (250 mL) water
2 tsp (10 mL) coriander seed
1 tbsp (15 mL) dill seed
1 tbsp (15 mL) salt
2 tbsp (30 mL) sugar
1 Trim tops if necessary and cut carrots into 4-inch (10-cm) lengths; depending on width, cut into halves or quarters lengthwise. Cook carrots in salted boiling water for 1 minute; drain. Divide between 2 sterilized 2-cup (500‑mL) glass jars; place 2 cloves of garlic in each jar. Set aside.

2 Combine vinegars, water, coriander and dill seeds, salt and sugar in a medium saucepan over medium heat. Stir to dissolve salt and sugar, bring to a boil and pour over carrots in jars. Seal and refrigerate for at least 2 days (pickles will keep for 2 weeks in refrigerator).
Makes 2 jars, 2 cups (500 mL) each
SHARE