Olive Eyeballs
Autumn 2001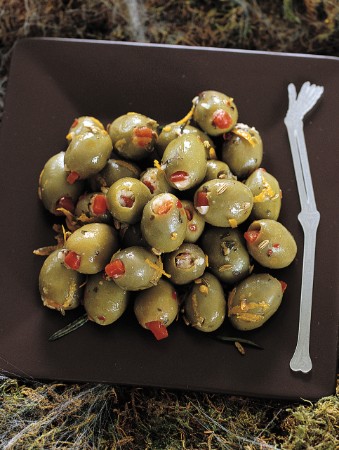 Olive Eyeballs
Autumn 2001
BY: Heather Trim
Take everyday olives and make them special with the wonderful flavours of southern France.
1 large head garlic
1 tsp (5 mL) olive oil
1 medium sprig fresh rosemary
3 tbsp (45 mL) olive oil
2 tbsp (25 mL) coarsely grated orange peel
1 tsp (5 mL) fennel seeds
Generous pinch hot chilli flakes
2 cups (500 mL) pimento-stuffed jumbo green olives
1. Preheat oven to 350°F (180°C).

2. Separate garlic into cloves, leaving peel on. Place cloves in a small dish, add just enough water to barely cover base of dish, then toss garlic with oil. Bake garlic uncovered, stirring occasionally, in preheated oven until cloves are tender, about 20 to 25 minutes. Remove from oven and when cool enough to handle peel. Slice cloves into slivers.

3. Meanwhile, break off clusters of rosemary leaves from sprig. Heat oil in small frying pan over low heat. Add orange peel, fennel seeds and chilli flakes, cook until fragrant, about 5 minutes.

4. Drain olives. Pop out pimento from olives and insert a garlic sliver in each. Replace pimentos. Place stuffed olives and rosemary clusters in a serving bowl and gently toss with olive oil mixture. Let marinate at room temperature, stirring occasionally, for at least 2 hours or refrigerate overnight. Olives will keep well, covered and refrigerated for up to 3 days.
SHARE