New York Sour
Autumn 2019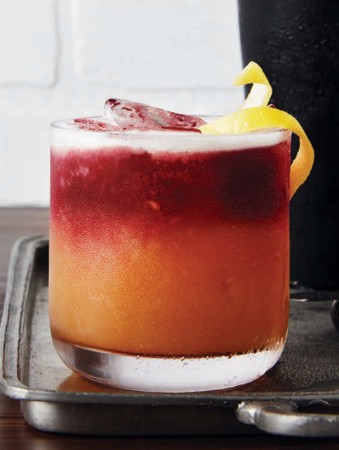 New York Sour
Autumn 2019
BY: James Peden
Baco as a cocktail ingredient

James Peden, Head Sommelier, Treadwell Farm to Table Cuisine, NOTL, treadwellcuisine.com

"We like to use Baco Noir as a red wine fl oat in a classic New York Sour. It is kind of the ideal wine to use, especially in the fall and winter because it has those kinds of smoky, meaty undertones that go really well with the bourbon. Baco's not an astringent grape so it comes off lighter and fresher. It softens the bourbon to take the edge off and adds a little bit of a‑fruity character."

Invented in Chicago and popularized in New York, a "float" of Baco Noir makes this 19th century classic uniquely Ontario's.
1½ oz bourbon
1 oz lemon juice
1 oz turbinado syrup
1 oz fresh egg whites
½ oz Baco Noir
Garnish of pomegranate seeds or long lemon twist
1 Add all the ingredients except the wine to a shaker and fill with ice. Shake until foamy and strain into a rocks glass filled with ice.

2 Carefully pour the wine over the back of a spoon so it floats on top of the drink and garnish with pomegranate seeds or a long lemon twist on top of the foam.
SHARE