Naan Crostini with Whipped Eggplant & Crispy Chickpeas
Early Summer 2018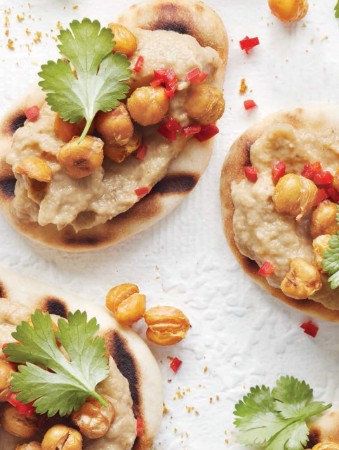 Naan Crostini with Whipped Eggplant & Crispy Chickpeas
Early Summer 2018
BY: Eric Vellend
These vegan, Indian-inspired crostini feature silky eggplant purée and curry-spiced chickpeas on smoky, grilled naan. To simplify the recipe, you could skip the chickpeas and use packaged bhel puri snack mix—a blend of puffed rice, peanuts and fried noodles—which is available at South Asian food shops and select supermarkets.
WHIPPED EGGPLANT
1 large eggplant, about 1¼ lbs (625 g)
1 clove garlic, grated on rasp
2 tbsp (30 mL) fresh lemon juice
1 tbsp (15 mL) pomegranate molasses
¼ cup (60 mL) extra virgin olive oil
Salt and freshly ground pepper to taste
1 can (540 mL) chickpeas
1 tbsp (15 mL) extra virgin olive oil
Salt to taste
½ tsp (2 mL) curry powder
4 naan, about 4 oz (125 g) each or 24 naan rounds
2 red hot chili peppers, seeded, finely chopped
Cilantro leaves to garnish
1. For the whipped eggplant, preheat oven to 425°F (220°C).

2. Prick eggplant all over with a fork. Place on a parchment-lined roasting pan. Bake, turning once, until a paring knife inserted in thickest part meets with almost no resistance, 40 to 50 minutes. Remove from oven and split down middle to speed up cooling. When cool enough to handle, remove and discard peel and stem. Chop flesh and place in a sieve set over a bowl. Drain 30 minutes.

3. Place eggplant in a food processor with garlic, lemon juice and pomegranate molasses. Process until smooth. With machine running, add olive oil in slow steady stream. Season with salt and pepper. (Whipped eggplant will keep, covered and refrigerated, up to 5 days. Bring to room temperature before using.)

4. Preheat oven to 350°F (180°C).

5. Drain and rinse chickpeas in sieve. Shake to remove excess water. Place on a baking tray lined with paper towel. Pat dry with more paper towel. Discard paper towel and toss chickpeas with oil and salt. Bake, shaking pan once, until crispy but still creamy on inside, 30 to 35 minutes. Remove from oven. Sprinkle with curry powder and shake pan to distribute.

6. When chickpeas are almost done, place grill pan or nonstick fry pan over high heat. Working in batches, cook naan until lightly charred, 1 to 2 minutes per side. Transfer to cutting board and cut each into 6 similar-sized pieces (if necessary). Smear each piece with whipped eggplant. Top with some crispy chickpeas, chopped chili and cilantro leaves.
SHARE