Mushroom Carpaccio
Autumn 2019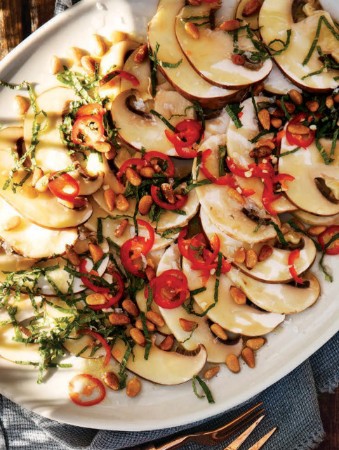 Mushroom Carpaccio
Autumn 2019
BY: Christopher St. Onge
Look for impeccably fresh Ontario mushrooms, likely grown nearby and recently harvested, for this dead simple salad. Its ease belies just how good it is. You'll know your mushrooms are fresh if the membrane over the gills is still attached to the stem and the cap looks plump and blemish-free. Purchase the biggest ones you can find, but disregard size in favour of freshness.
1¼ lbs (565 g) large white or cremini mushrooms, or a combination of both
½ cup (125 mL) extra virgin olive oil
2 tbsp (30 mL) lemon juice
1 red finger chili, thinly sliced
3 tbsp (45 mL) mint, about 8 large leaves finely sliced
Sea salt, preferably Maldon
2 tbsp (30 mL) toasted pine nuts
1 Clean the mushrooms using a dry brush (do not wash under water); trim stem ends, leaving most of the stems intact. Slice as thinly as possible and arrange on a large platter, overlapping slightly as necessary.
2 Drizzle olive oil over; sprinkle evenly with lemon juice. Scatter with chili, then mint. Season lightly with the salt. Strew with pine nuts, and serve straightaway.
SHARE