Mushroom Bourguignon
Autumn 2021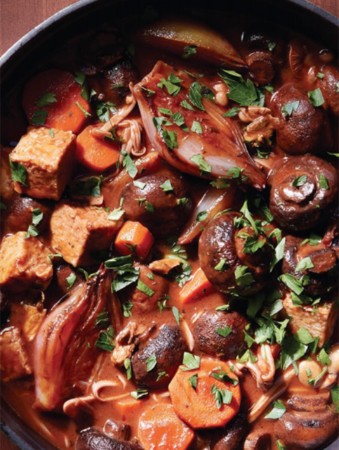 Mushroom Bourguignon
Autumn 2021
BY: Eric Vellend
The iconic beef stew becomes plant-based with a trio of fungi and tempeh, a protein-rich cake of fermented soybeans originally from Indonesia. If you can't find hon shimeji mushrooms, substitute an equal amount of oyster mushrooms pulled into strips. To make this dish vegan, simply swap in more olive oil for the butter.
2 cups (500 mL) vegetable or mushroom stock
1/2 oz (15 g) dried porcini mushrooms
2 lbs (905 g) small to medium cremini mushrooms
1/4 cup plus 1 tbsp (60 mL plus 15 mL) olive oil, divided
Salt and freshly ground pepper to taste
2 tbsp (30 mL) unsalted butter
8 large shallots, about 3/4 lb (340 g), peeled and halved through root ends
3 cloves garlic, thinly sliced
1 tbsp (15 mL) chopped thyme
1 tbsp (15 mL) tomato paste
2 tbsp (30 mL) all-purpose flour
1 cup (250 mL) dry fruity red wine
1 (150 g) package hon shimeji mushrooms, trimmed, separated
1 large carrot, about 8 oz (225 g), peeled and sliced 1/3 inch (8 mm) thick
1 bay leaf
1 (250 g) package plain tempeh, cubed
Chopped parsley for garnish
Mashed potatoes or buttered egg noodles for serving
1. In a small saucepan, heat stock until hot. Remove from heat and stir in porcini. Soak for 20 minutes. Remove porcini and squeeze dry. Place in a sieve and rinse. Drain, dry, coarsely chop and set aside. Slowly pour soaking liquid into a bowl, leaving any sediment behind. Set aside.

2. Preheat oven to 425°F (218°C). Line a baking sheet with parchment paper.

3. In a large mixing bowl, toss cremini mushrooms with 1/4 cup (60 mL) oil, salt and pepper. Transfer to prepared sheet. Bake on the bottom rack of the oven until browned and tender, about 25 minutes. Remove from oven.

4. In a large heavy-duty pot, heat the remaining 1 tbsp (15 mL) oil and butter over medium-high heat. Add shallots, cut-sides down. Cook until deeply browned, about 5 minutes. Reduce heat to medium-low and flip shallots. Cook for 2 minutes. Add garlic and thyme. Cook, stirring, for 1 minute. Add tomato paste. Cook, stirring, for 1 minute. Sprinkle in flour. Cook, stirring, for 1 minute. Add wine and porcini soaking liquid, stirring up any brown bits. Raise heat to high. When it comes to a boil, add porcini, roasted cremini mushrooms, hon shimeji, carrot and bay leaf. When it returns to a boil, partially cover and reduce heat to maintain a gentle simmer. Cook, stirring occasionally, until carrots and shallots are soft, about 20 minutes. Stir in tempeh. Cook until it just heats through, about 2 minutes. Taste sauce for salt.

5. Sprinkle with parsley. Serve with noodles or mashed potatoes.
SHARE