Mushroom Barley Pilaf with Cranberries
Holiday 2014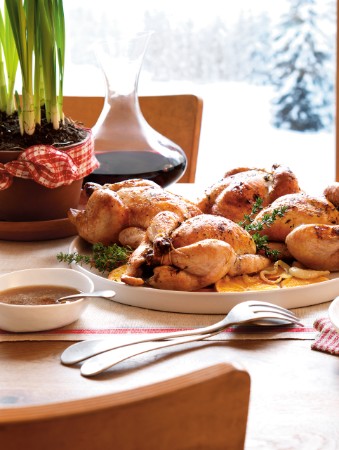 Mushroom Barley Pilaf with Cranberries
Holiday 2014
BY: Jennifer MacKenzie
Barley is simmered until plump and tender in a mushroom-studded pilaf with the sweet-tang of cranberries for an earthy side dish fit for a festive family meal. It's best when made fresh and eaten right away but can be made ahead, refrigerated for a day or two and reheated in a saucepan or in the microwave with a little added moisture to ease the logistics of a busy dinner.
2 tbsp (30 mL) olive oil
1 onion, chopped
1 tsp (5 mL) dried basil
Salt and freshly ground pepper
1 lb (500 g) sliced mixed mushrooms
3 cloves garlic, minced
1½ cups (375 mL) pot barley, rinsed
2 cups (500 mL) vegetable or chicken stock, preferably unsalted or reduced-sodium
2 cups (500 mL) water
½ cup (125 mL) dried cranberries
1 Heat oil in a large pot over medium-high heat. Add onion, basil and ½ tsp (2 mL) each of salt and pepper and sauté for 3 minutes or until starting to soften.

2 Add mushrooms and sauté for 7 minutes or until mushrooms start to brown. Add garlic and sauté for 1 minute or until fragrant. Stir in barley until well coated.

3 Add stock and water and bring to a boil over high heat. Reduce heat to low, cover and simmer for 30 minutes. Stir in cranberries, cover and simmer for about 10 minutes longer or until barley is tender and most of liquid is absorbed. Cover and let stand for 5 minutes. Season to taste with salt and pepper.
SHARE