Moroccan Lamb Burgers
Summer 2021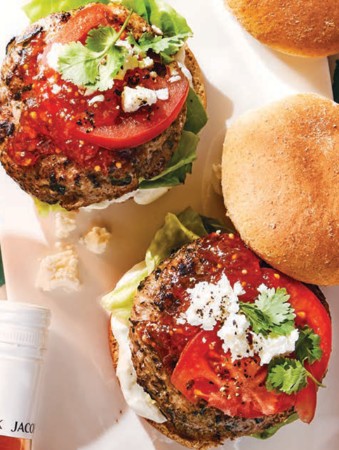 Moroccan Lamb Burgers
Summer 2021
BY: Miranda Keyes
These burgers are brought to life with spices and paired with a warming apricot chutney. If you want to forgo making the apricot chutney, use your favourite store-bought variety instead. The yogurt and fresh herb toppings provide a pleasing balance of flavours. If you can't find ground lamb at your local grocery store, call a nearby butcher, as many have it readily available.
APRICOT CHUTNEY
3/4 cup (175 mL) apricot jam
2 tbsp (30 mL) apple cider vinegar
1 tsp (5 mL) finely grated ginger
1/2 tsp (2 mL) mustard seeds
1/4 tsp (1 mL) chilli flakes
1/4 tsp (1 mL) salt
LAMB BURGERS
1 small onion, ends trimmed, peeled and sliced in half
1 1/2 lbs (680 g) ground lamb
1/4 cup (60 mL) quick-cooking oats
1/4 cup (60 mL) finely chopped cilantro
1 garlic clove, finely minced
1 tsp (5 mL) ground cumin
1 tsp (5 mL) sweet paprika
1 tsp (5 mL) ground coriander
1 tsp (5 mL) salt
1/2 tsp (1 mL) freshly ground black pepper
TO ASSEMBLE
4 whole wheat burger buns
Plain Greek yogurt
Butter lettuce
Tomato, thinly sliced
Feta cheese, crumbled
Fresh cilantro leaves
1. For the chutney, in a small saucepan, combine apricot jam with apple cider vinegar, ginger, mustard seeds, chilli flakes and salt, and set over high heat. Bring to a boil, then reduce heat to medium-low and simmer, uncovered, stirring occasionally, until slightly thickened, 10 to 15 minutes. Scrape mixture into a bowl and refrigerate, uncovered, until cooled completely for at least 1 hour. The mixture will thicken as it cools (see TIP 1).
2. For the burgers, grate onion on the large holes of a box grater. Transfer to a large bowl along with ground lamb, oats, cilantro, garlic, cumin, paprika, coriander, salt and pepper. Gently mix until combined and shape into 4 equal-sized burgers, about 1/2 inch (1 cm) thick (see TIP 2).
3. Cook burgers over a high grill for 4 minutes per side, until no longer pink in the centre or until a meat thermometer inserted horizontally into the centre of the burger registers 160°F (71°C). Keep an eye on the burgers as they grill, the fat in the ground lamb may cause the grill to flare up.
4 Toast buns on the grill, if desired. Smear bottoms of buns with yogurt, then top each one with lettuce, 1 burger, apricot chutney, tomato, feta cheese and cilantro leaves. Serve immediately.
TIP 1 Apricot chutney can be made up to 2 days in advance, covered with plastic wrap and refrigerated. The flavours intensify the longer it sits in the fridge.
TIP 2 Burgers can be made up to 1 day in advance, covered with plastic wrap and refrigerated.
SHARE