Mixed Greens with Red Wine Vinaigrette
Holiday 2013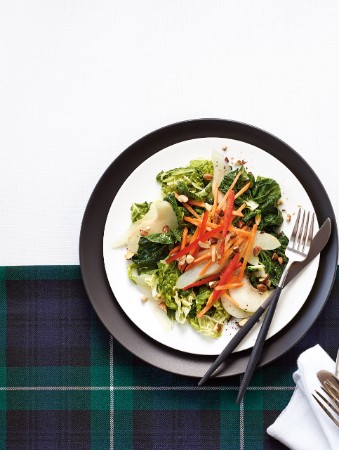 Mixed Greens with Red Wine Vinaigrette
Holiday 2013
BY: Jennifer McLagan
Once you learn the technique of a classic vinaigrette you can change up the vinegars, oils and seasonings, opening up a world of flavours for your salads. This classic combination of French flavours works well on bold or mild greens, or a mixture of both, with or without vegetables as garnish.
2 tbsp (30 mL) red wine vinegar
½ tsp (2 mL) finely chopped fresh thyme
½ tsp (2 mL) Dijon mustard
Pinch granulated sugar
Salt and freshly ground pepper
1/3 cup (80 mL) extra virgin olive oil
½ sweet red pepper
8 cups (2 L) mixed salad greens, about 8 oz (250 g)
1 Set a small, straight-sided bowl on a damp cloth to keep it from moving on the counter. Add vinegar, thyme, mustard, sugar and ¼ tsp (1 mL) each salt and pepper and whisk until blended. Pouring the oil from a measuring cup with a spout with one hand and whisking with the other, very slowly drizzle the oil into the bowl, whisking vinegar mixture vigorously to allow the oil to emulsify with the vinegar.

2 Dip a leaf of greens into the vinaigrette and taste for seasoning. Add more salt, pepper and sugar to taste. The vinaigrette can be covered and left at room temperature for up to 8 hours, or refrigerated for up to 1 day. Let warm to room temperature for the oil to liquify.

3 Cut curved top and bottom from red pepper.If the pepper is large, cut in half crosswise. Cut lengthwise into thin strips (julienne). Wrap in paper towel, then in plastic wrap and refrigerate until serving, for up to 8 hours.

4 Just before serving, place greens in a very large bowl. Whisk vinaigrette to re-emulsify, if necessary. Gradually drizzle vinaigrette over greens, tossing gently with tongs as you pour to lightly and evenly coat with dressing. Divide among serving plates and garnish with julienned red pepper. Season with salt and pepper, if desired.
SHARE