Mini Sujuk Log
Summer 2016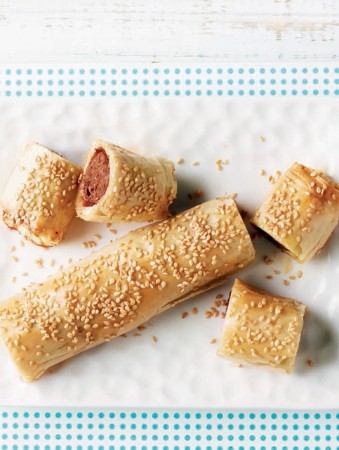 Mini Sujuk Log
Summer 2016
BY: Signe Langford
This tasty little beef sausage is deeply flavourful with garlic, allspice, cumin and coriander seed. Look for sujuk at specialty butchers or Middle Eastern grocery stores. It's generally available in mild and hot, large and mini; we used the mild minis so everyone can partake! If you can't find sujuk, chorizo or any thick Italian sausage will work. Za'atar is a readily available spice blend of thyme, sumac and sesame seeds, typically.
1 lb (500 g) fresh, mini sujuk sausages
1 cup (250 mL) labneh or strained Greek yogurt or soft, spreadable cream cheese or ricotta
2 free-run eggs
2 tsp (10 mL) za'atar
2 tsp (10 mL) olive oil for egg wash
1 pkg frozen phyllo pastry, thawed according to package directions
Olive oil, melted butter or non-stick olive oil cooking spray for brushing or spraying the pastry
About ¼ cup (60 mL) sesame seeds for garnish, divided (alternative garnishes can be a sprinkling of Aleppo pepper, sumac or za'atar)
1 Line a cookie sheet with parchment paper; set aside.
2 Preheat oven to 375°F (190°C).

3 If sujuk is tied into links, separate, then add to a large skillet over medium-high heat and fry the sausage until browned. Transfer to plate and set aside to cool.

4 Into a medium bowl, combine the labneh, 1 egg and za'atar. Blend until smooth and well combined.

5 In a small bowl, whisk the second egg with olive oil and set aside; this is the egg wash.

6 Roll out the phyllo on the counter vertically away from you. Along the end closest to you, spoon and spread about ¼ cup (60 mL) of the labneh mixture. Lay a row of the cooled sujuk end to end—about 6 sausages—then gather 2 sheets of pastry, fold them over the sausages and start rolling away from yourself.

7 Brush or spray the next layer of pastry with oil or butter and roll the log back toward you, gathering up 2 sheets of pastry. This isn't crucial, so if you gather 3 or even 4 sheets at a time, it will still be fine. Transfer log—seamside down—to prepared sheet pan. Carry on with the remaining sausage and labneh.

8 Brush the finished logs with egg and oil wash and sprinkle with sesame or other garnishes.

9 Bake for about 20 to 25 minutes or until golden.

10 Serve whole on a cutting board with a knife so guests can serve themselves. These are tasty hot or at room temperature, but the pastry will lose its delicious crunch if not consumed within a few hours.

11 Serve with Mint Tahini Mayo and Harissa Labneh (recipes follow).
MINT TAHINI MAYO

Creamy, tart, and freshly minty, this dip couldn't be easier to make. Start with the best quality mayonnaise—Hellman's olive oil mayo, made with free-run eggs, is a good choice.

⅓ cup (80 mL) good-quality mayonnaise
¼ cup (60 mL) tahini (sesame paste)
2 tbsp (30 mL) water
¼ cup (60 mL) fresh lemon juice
2 cloves garlic, very coarsely chopped
3 tbsp (45 mL) olive oil
⅓ cup (80 mL) loosely packed fresh mint leaves
Freshly ground black pepper to taste
¼ tsp (1 mL) sea salt
1 tsp (5 mL) za'atar (optional)
1 Add all the ingredients to the bowl of a food processor and blend on high until smooth. Stop after about 30 seconds and scrape the sides of the bowl down.

2 Taste and adjust for salt.

3 Leftovers will keep in the fridge, covered, for up to 3 days.
Makes about 1 cup (250 mL)
HARISSA LABNEH

This delicious dip packs a one-two punch of hot and creamy. Harissa is a traditional Middle Eastern hot pepper sauce that is usually enjoyed as is, but we've added extra-rich labneh—a Middle Eastern strained yogurt as thick as cream cheese—to soften the spicy bite just a bit. Sumac is a Middle Eastern and North African spice with a sour tang. Look for it in Middle Easter grocers, spice shops and online.

¾ cup (175 mL) labneh, strained Greek yogurt or soft and spreadable cream cheese
2 tbsp (30 mL) harissa
1 tbsp (15 mL) fresh lemon juice
1 tsp (5 mL) sumac powder (optional)
1 Add all ingredients to a medium bowl and combine with a whisk until smooth. Any leftovers will keep in the fridge, covered, for up to 3 days.
Makes about 1 cup (250 mL)
SHARE