Memories of Bloomfield
Holiday 2020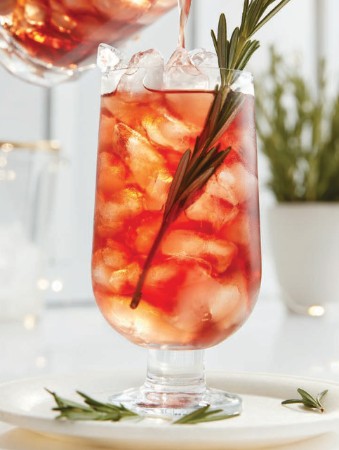 Memories of Bloomfield
Holiday 2020
BY: Christine Sismondo
Named after Bloomfield, Ont., the town where Kinsip House of Fine Spirits houses its distillery, this smoky-sweet cocktail is just right for nights spent sitting by the fire or watching the snow fall.
2 oz Kinsip Maple Whisky
1/2 oz Cinzano Rosso Sweet Vermouth (LCBO 215251, 1 L)
1/4 oz Rosemary Syrup (recipe follows)
2 dashes Angostura bitters
Rosemary sprig (for garnish)
1. Combine all ingredients except the sprig into a mixing glass with 6 ice cubes. Stir for 15 seconds. Strain into a cocktail glass with fresh ice. Garnish with a sprig of rosemary.
ROSEMARY SYRUP

Rosemary syrup can be bought at cocktail supply shops, but if you have a few minutes just a day or two before, it's also easy to make from scratch.

1 cup (250 mL) white sugar
1 cup (250 mL) water
4 sprigs rosemary
1. Heat all ingredients in saucepan until the liquid comes to low boil. Let boil for 1 minute, remove from heat and let cool. Strain and bottle. Can be refrigerated for up to 4 weeks.
SHARE