Matcha Swirl Milk Bread
Holiday 2020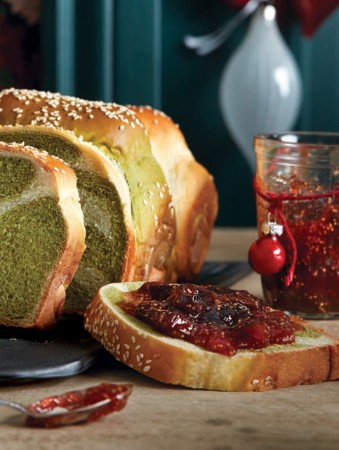 Matcha Swirl Milk Bread
Holiday 2020
BY: Marcella DiLonardo
Japanese milk bread is a traditional Japanese bread known for its super soft interior and sweet flavour. It uses a water-based starter, also known as a tangzhong, to achieve its signature texture. I added a matcha swirl for a twist on the classic white bread. The matcha adds a hint of earthiness, but be sure to use a high-quality matcha to yield the strongest and purest flavour. Enjoy this bread with a smear of hazelnut spread or sweet jam.
TANGZHONG
3 tbsp (45 mL) water
3 tbsp (45 mL) whole milk
2 tbsp (30 mL) bread flour

BREAD
1/2 cup (125 mL) whole milk, warm to touch
2 tsp (10 mL) instant yeast
2½ cups (625 mL) bread flour
1 tsp (5 mL) fine salt
3 tbsp (45 mL) granulated sugar
1/4 cup (60 mL) heavy whipping cream
1 large egg, whisked
2 tbsp (30 mL) butter, room temperature, divided
1 tbsp (15 mL) good-quality matcha powder, sifted

EGG WASH
1 large egg, whisked
1 tbsp (15 mL) milk
1 tsp (5 mL) honey
Black or white sesame seeds, for topping

1. In a saucepan over low heat, whisk together the water, milk and bread flour until no lumps remain. Cook until mixture reaches 150°F (66°C). It should have a gel-like consistency. Transfer to a small bowl and let cool to room temperature.

2. In the bowl of a stand mixer fitted with a dough hook attachment, add milk and sprinkle in the yeast. Let stand for 5 minutes, until the yeast activates and becomes bubbly.

3. Add the flour, salt and granulated sugar to the bowl of the stand mixer. Knead on low speed until just incorporated.

4. In a separate small mixing bowl, whisk together the tangzhong, cream and egg.

5. Add the tangzhong mixture to the stand mixer and knead until a smooth dough is formed. Add the butter to the dough, 1 tbsp (15 mL) at a time. Continue kneading until the dough becomes smooth and elastic. Remove half of the dough from the stand mixer and shape into a ball. Transfer to a greased bowl and cover with a damp towel.

6. To the remaining dough, add the matcha powder. Beat until the matcha is fully incorporated, about 2 minutes. Remove dough and transfer to a heavily floured surface. Continue kneading by hand until the matcha is evenly dispersed. Shape into a ball and transfer to a greased bowl. Cover with a damp towel. Allow both doughs to rise for a minimum of 2 hours, or until doubled in size.

7. When ready to roll out, turn out dough onto a floured surface. Divide each dough into 3 equal pieces. Roll each piece out to a long rectangle, about 8 x 5 inches (20 x 12 cm) wide.

8. Layer 1 piece of the matcha dough onto the regular dough. Roll to flatten. Fold in 1-inch (2.5-cm) from each side and roll the dough into a log, with the matcha side on the inside.

9. Place log horizontally, seam-side down, in a greased 4 1/2 x 8 1/2-inch (11 x 21-cm) loaf pan. Repeat with remaining dough. There should be 3 logs in total.

10. Cover the loaf pan with plastic wrap and let rest for 30 minutes, until the dough has doubled in size.

11. When ready to bake, preheat oven to 350°F (180°C).

12. In a small mixing bowl, make egg wash by whisking together the egg, milk and honey. Lightly brush the top of the dough with egg wash and sprinkle with sesame seeds.

13. Bake until the bread is golden brown, about 35 minutes. Let cool to room temperature before slicing.
Makes 1 loaf (8 servings)
HONEY FIG JAM

This simple stovetop jam requires no pectin and comes together in under 60 minutes. It is not only a thoughtful hostess gift to give this season but also makes for a great addition to any charcuterie board.

4 cups (1 L) stemmed, quartered and packed fresh figs
3/4 cup (175 mL) granulated sugar
1/2 cup (125 mL) honey
2 tbsp (30 mL) lemon juice
2 tbsp (30 mL) water, if necessary
1 tsp (5 mL) vanilla extract
1. In a large saucepan over medium-high heat, add the figs, sugar, honey and lemon juice. Stir to combine.

2. Bring to a boil and reduce heat to medium-low. Stirring occasionally, cook for 45 minutes or until the fruit is cooked throughout and the liquid has thickened. When ready, the mixture should fall off the back of a spoon in thick drips. If the jam is too thick, stir in 1 to 2 tbsp (15 to 30 mL) water.

3. Remove from heat and stir in vanilla. Cool slightly before transferring to a glass jar with an airtight lid. Store in the refrigerator for up to a month.
SHARE