Martini Club's Full Meal Deal Caesar
Summer 2006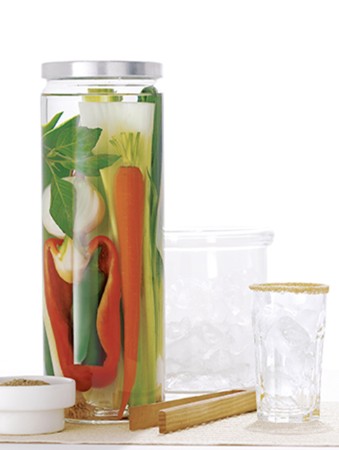 Martini Club's Full Meal Deal Caesar
Summer 2006
BY: The Martini Club
The infused vodka used here requires patience-up to 2 weeks' worth. Trust us, it's worth the wait.
Lime wedge
Celery salt
1½ oz infused vodka (recipe follows)
1 tsp Worcestershire sauce
½ tsp hot sauce
Juice of 1⁄8 fresh lime
1 tsp horseradish
4 oz Mott's Clamato
Salt and pepper to taste

Garnish:
Prosciutto, Gherkin, Grape tomato, Cubed Cheddar, Bocconcini, Stuffed chilli peppers
1. Rim a tall glass with celery salt.

2. Fill the glass with ice and add above ingredients. Stir to mix.

3. Garnish with a loaded skewer of prosciutto, gherkin, grape tomato, cubed cheddar, bocconcini and stuffed chili peppers (or whatever deli items you've got on hand!).


Infused Vodka:
1. To a large, lidded jar, add 2 carrots, peeled; 2 celery stalks, 1 red bell pepper, seeded and sliced; 1 leek, cleaned and halved lengthwise; 1 small sweet onion, sliced,1 jalapeño pepper and 2 basil leaves.

2. Top with 750 mL vodka (or more) and seal the jar tightly.

3. Let sit for 3 days to 2 weeks.
SHARE