Marinated King Oyster Mushrooms Rolled with Tarragon Goat Cheese
Autumn 2018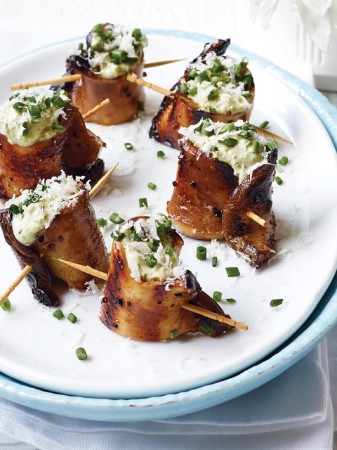 Marinated King Oyster Mushrooms Rolled with Tarragon Goat Cheese
Autumn 2018
BY: Michelle Rabin
King oyster mushrooms are the star of this dish. They are thinly sliced, marinated and then grilled, making them dense with flavour and texture. Rolled and filled with a bright, herby goat cheese mixture, these morsels are a one-bite wonder, perfect as a little appetizer or snack.
5 to 6 king oyster mushrooms
½ cup (125 mL) olive oil
½ cup (125 mL) dry white wine
¼ cup (60 mL) balsamic vinegar
2 garlic cloves, minced
1 tbsp (15 mL) grainy mustard
½ tsp (2 mL) salt
½ tsp (2 mL) pepper
½ cup (125 mL) fresh tarragon
¼ cup (60 mL) chives, plus 1 tbsp (15 mL)
Zest and juice of 1 lemon
½ cup (125 mL) grated Parmesan cheese, plus 2 tbsp (30 mL)
About 5 oz (140 g) goat cheese
1. Cut mushrooms lengthwise into ¼-inch-thick (5-mm) slices.

2. In a bowl, combine oil, wine, vinegar, garlic, mustard, salt and pepper. Immerse mushroom slices in marinade and toss to fully coat. Let marinate for 30 minutes.

3. Pulse tarragon, 1/4 cup (60 mL) chives, lemon zest and juice in a food processor until finely chopped. Add ½ cup (60 mL) Parmesan and goat cheese and blend until a smooth green paste forms.

4. Heat a grill pan over medium-high. Working in batches, grill mushrooms in a single layer in pan. Cook until mushrooms are deep brown and caramelized on the edges, about 2 minutes per side. Transfer grilled mushrooms to a wire rack to cool slightly.

5. Once cool enough to handle, spoon about 1½ tsp (7 mL) of the goat cheese mixture into the centre of 1 mushroom slice. Lift the 2 ends of the mushroom together and pierce with a toothpick to hold. Repeat with remaining mushrooms. 6 Finely chop remaining chives. Garnish with remaining Parmesan cheese, chopped chives and freshly ground pepper.
SHARE