Manhattan Truffles
Holiday 2004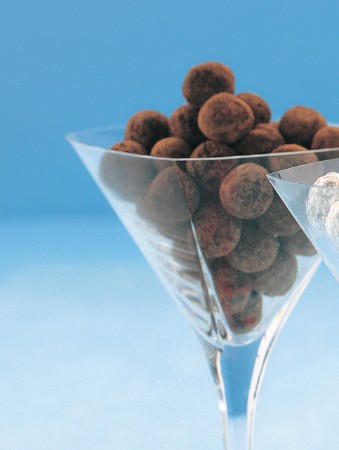 Manhattan Truffles
Holiday 2004
BY: Anna Olson
Creating miniature versions of chocolate truffles allows you to indulge just a little more - they're so small, after all! The twist to these fabulous little bites of heaven is in their cocktail inspirations.
2 tbsp (25 mL) whipping cream
1 tbsp (15 mL) unsalted butter
12 oz (375 g) milk chocolate, chopped
2 tbsp (25 mL) finely chopped dried cherries
1 tbsp (15 mL) whisky
1 tbsp (15 mL) sweet vermouth
1. Bring 2-inches (5-cm) water to just below a simmer in a pot. Place whipping cream, butter and 6 oz (175 g) milk chocolate in a bowl. Place over water without touching and stir constantly until chocolate is almost melted. Remove from heat and continue stirring until chocolate is completely melted.

2. Stir finely chopped dried cherries into truffle filling with whisky and vermouth. Let filling cool to room temperature then whisk vigorously for a minute (this makes a fluffy, smooth truffle). Chill for at least 4 hours. Filling can be prepared days in advance and chilled, or weeks in advance and frozen.

3. Spoon small measures of chilled filling ½ tsp (2 mL) for mini-truffles and 1 tsp (5 mL) for regular), roll between your palms to create little balls, and place on a parchment-lined baking sheet. Dip your hands often in cold water and wipe dry - this will make the process easier and tidier. Once all the truffles have been shaped, freeze the tray until ready to dip.

4. Melt remaining 6 oz (175 g) of milk chocolate in a pot over very low heat, stirring occasionally. Cool 5 minutes. Using your fingers (or a truffle fork, available at cake supply stores), dip frozen truffle filling in milk chocolate to coat completely. If you wish, toss truffle gently in cocoa powder or icing sugar to coat and place on baking tray to set. Once chocolate has set, package as desired.

5. Truffles will keep in an airtight container in a cool, dry place for up to 3 weeks.
Makes about 50 mini-truffles (25 regular)
SHARE