Manhattan Drops
Spring 2009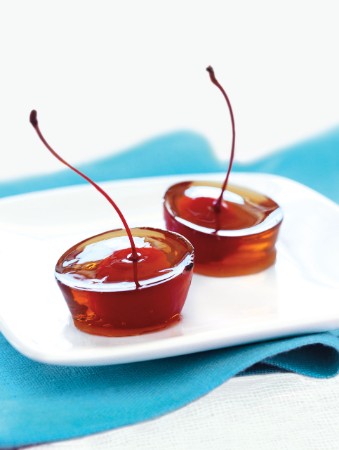 Manhattan Drops
Spring 2009
BY: Dana McCauley
Although the genesis of the Manhattan is disputed, there's no doubt that this reinterpretation of that classic whisky drink is a fun, gorgeous addition to your bar offerings. Choose any type of rye you like but do remember to stir the mixture well before setting to prevent undissolved gelatin from rising to the top and marring the surface of these edible cocktails.
1 jar (255 mL) maraschino cherries with stems (approx.)
1 cup (250 mL) simple syrup
3 pkgs (7 g each) unflavoured gelatin crystals, about 3 tbsp (45 mL)
11⁄2 cups (375 mL) rye whisky
3⁄4 cup (175 mL) sweet vermouth
1⁄4 tsp (1 mL) Angostura or Peychaud Bitters
1.  Drain cherries well and blot on paper towel. Meanwhile, pour the simple syrup into a small saucepan. Sprinkle gelatin overtop and stir to combine. Let stand until gelatin softens, about 2 minutes. Place this mixture over low heat and stir, gently splashing around the sides of the pan until all of the gelatin
has dissolved. Do not boil.

2.  Combine whisky, vermouth and bitters in a bowl. Stir in gelatin mixture. Stir slowly for 1 minute.

3.  Arrange cherries, stems pointing up, in mini tart tins, round candy moulds or small ice cube trays. Divide alcohol mixture evenly between moulds. Transfer to refrigerator for 45 minutes or until softly set. Straighten any slanted stems. Chill for at least 1 hour longer.

4.  To unmould, dip bottoms of moulds briefly in body-temperature water. Use a rubber spatula to lift jellies out of moulds.
Makes 48, about 16 servings, approximately 3 per person
Simple Syrup

3 cups (750 mL) each granulated sugar and water
1. Combine sugar and water in a saucepan. Set over medium-high heat and cook, stirring until sugar is dissolved, for 6 to 10 minutes or until mixture comes just to a boil and clarifies. Cool to room temperature; transfer to a sterilized jar. Cover tightly and refrigerate for up to 3 weeks.
SHARE