Make-Ahead No Big Bird Gravy
Holiday 2013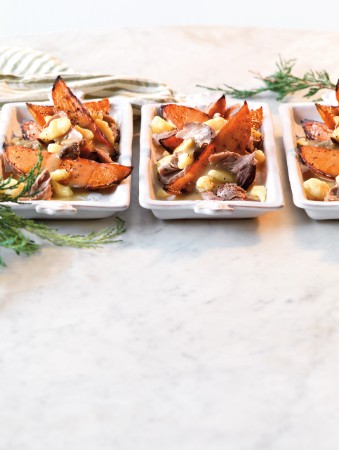 Make-Ahead No Big Bird Gravy
Holiday 2013
BY: Signe Langford
Sometimes we want gravy, but we don't want to roast a whole turkey. This one's simple and delicious and can be kept on hand for hot turkey sandwiches, fries, mashed potatoes, or wherever a splash of gravy makes things that much yummier!
4 turkey wings or 10 chicken wings
(if turkey can't be found)
1 large onion, peeled and coarsely chopped
½ cup (125 mL) water
2 carrots, coarsely chopped (no need to peel)
2 celery stalks, coarsely chopped
5 sprigs thyme
1 bay leaf
2 sprigs sage
5 cups (1.25 L) chicken stock, divided
¼ cup (60 mL) flour
2 tbsp (30 mL) butter
Pepper to taste
Salt
1 Preheat oven to 375°F (190°C).

2 Lay wings in a roasting pan and tumble the onions on top. Roast for about 1 hour or until the wings have browned.

3 Add the roasted wings and onion to a large stockpot. Set aside.

4 Add the water to the hot roasting pan and, with a flat-edged spatula, scrape all the roasted brown bits off the bottom of the pan. Pour this deglazing water into the stockpot with the wings.

5 Move stockpot to stove over medium-high heat, add the vegetables, herbs and 4 cups (1 L) of the chicken stock. Stir, and bring to a boil.

6 Reduce heat to low and simmer uncovered for 1 to 1½ hours.

7 With a slotted spoon or tongs, remove the wings and set aside.

8 Pour the contents of the stockpot through a sieve or fine colander into a saucepan. Using the back of a spoon, push on the soft vegetables to draw out as much juice and flavour as possible. Discard the herbs and vegetables.

9 In a small bowl, using a whisk, beat the remaining cup of stock with the flour until smooth.

10 Over medium heat, bring the turkey liquid to a good simmer and add the flour stock, whisking constantly as you add. Continue to simmer and whisk until the liquid turns into a thick gravy; about 5 minutes. Whisk in the butter and pepper and taste for salt. The stock may have added enough salt. Leftovers can be frozen for up to 3 months or stored, covered, in the refrigerator for up to 1 week.
SHARE