Linguine with Pancetta and Arugula
Winter 2007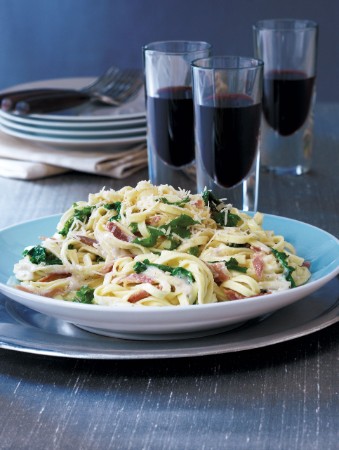 Linguine with Pancetta and Arugula
Winter 2007
BY: Heather Trim
A cream sauce is comforting on a cold winter's night. Leftover pancetta will last several days in the fridge, or wrap and freeze it for the next time you make pasta.
2 tsp (10 mL) olive oil
¼ cup (50 mL) chopped pancetta or bacon
¼ cup (50 mL) finely chopped shallots or onion
½ cup (125 mL) white wine
1 cup (250 mL) store-bought Alfredo pasta sauce
Half a 450g pkg linguine or fettuccine
1 cup (250 mL) chopped arugula or spinach
Generous grinding pepper and salt
Parmesan
1. Bring a pasta pot full of salted water to a boil. Heat oil in a medium saucepan over medium heat. Add pancetta and stir until fairly crisp, 2 to 5 minutes. Add shallots; cook 1 to 2 minutes. Add wine, boil until 2 tbsp (25 mL) remain.

2. Add pasta to water and cook according to package directions. Add sauce to pancetta mixture and stir until hot.

3. Add arugula to heated sauce just before pasta is cooked. Drain pasta, add to sauce and toss with black pepper and salt if needed. Serve with Parmesan.
SHARE