Lemony Potato Salad with Saffron & Parsley
Summer 2013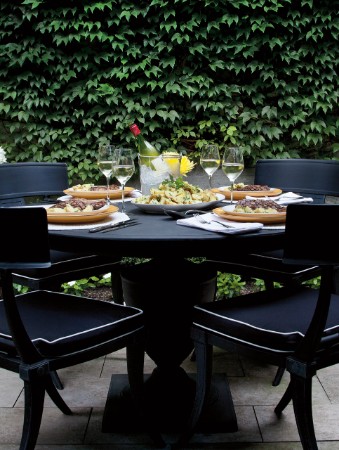 Lemony Potato Salad with Saffron & Parsley
Summer 2013
BY: Marilyn Bentz-Crowley
Saffron imparts unique flavour as well as beautiful colour. Serve this lemony salad with grilled lamb or seafood such as salmon, tuna or shrimp. If your garden is brimming with fresh basil, use that.
3 lbs (1.5 kg) new potatoes, preferably yellow-flesh
1 to 2 lemons
2 large garlic cloves, minced
A few saffron threads or a small pinch (see TIP)
½ cup (125 mL) diced or sliced red, Vidalia or green onion
½ cup (125 mL) coarsely chopped fresh parsley or basil or combination
⅓ cup (80 mL) olive oil
1½ tsp (7 mL) salt
¼ tsp (1 mL) freshly ground black pepper
1 Cover potatoes with water; bring to a boil. Reduce heat, partially cover and simmer from 15 minutes for small potatoes to 25 minutes for large ones, or until tender. Pierce with a skewer to determine tenderness. Drain and cool until just able to handle.

2 Meanwhile, grate zest from 1 lemon; squeeze ⅓ cup (80 mL) juice. Scoop half of zest into a small dish; cover and set aside. Add remaining half of zest and all measured juice to another small dish along with garlic. Add saffron. Set aside to infuse.

3 New potatoes are usually served with thin skins left on; however, potatoes can be peeled if you prefer. Cut small potatoes in halves or quarters and larger ones into medium chunks; place in a large bowl with onion and parsley. Gently toss.

4 Whisk infused lemon juice, including garlic and saffron threads, with olive oil, salt and pepper. Pour over potato mixture; gently toss. (Salad can be covered and refrigerated for up to a day.)

5 Serve salad at room temperature garnished with reserved zest and additional parsley.
TIP Saffron is the world's most expensive spice, but fortunately only a bit is needed. Make this salad with just a few threads for a delicate flavour, or use more if you prefer a stronger saffron taste. The fresher the saffron, the more prominent the flavour, so store airtight, away from heat and light and it will last a couple of years.
SHARE