Lemon-Rosemary Radler
Summer 2018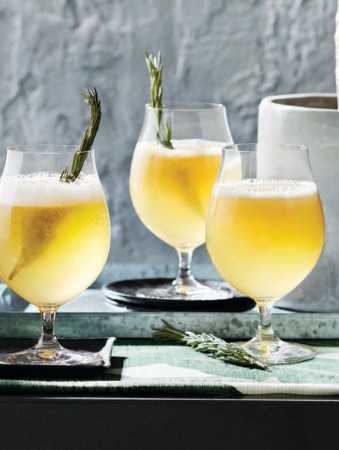 Lemon-Rosemary Radler
Summer 2018
BY: Eric Vellend
Citrusy, thirst-quenching and low in alcohol, this beer-based libation is also known as a shandy. The rosemary lends a subtle piney note that pairs well with the lager. You could also use a wheat beer, but avoid hoppy ales as they will bully the lemon flavour and yield a less refreshing drink.
1¼ oz Lemon-Rosemary Syrup (recipe follows)
1 oz strained fresh lemon juice
6 oz club soda, chilled
8 oz pilsner or other pale lager, chilled
Rosemary spring to garnish
1. Pour syrup and lemon juice into a chilled 16-oz beer glass. Slowly pour in soda. Tilt glass and top with beer, pouring very slowly. Garnish with rosemary sprig.
LEMON-ROSEMARY SYRUP
Both sweet and savoury, this unique syrup makes a terrific lemon soda. Just omit the beer from the Lemon-Rosemary Radler and fill the glass with ice.

⅔ cup (150 mL) water
⅔ cup (150 mL) granulated sugar
3 tbsp (45 mL) chopped rosemary
2 large lemons, washed
1. In a small saucepan, heat water, sugar and rosemary over medium-high heat, whisking until sugar is dissolved. Remove from heat. Cool to room temperature.

2. Using a rasp, finely grate lemon zest into syrup. Let stand 10 minutes. Pass through fine mesh strainer set over a bowl, pressing on solids with a spoon to extract syrup. Discard solids. Transfer syrup to glass jar with lid. Refrigerate up to 2 weeks.
SHARE