Lemon Herb Potato Salad
Summer 2009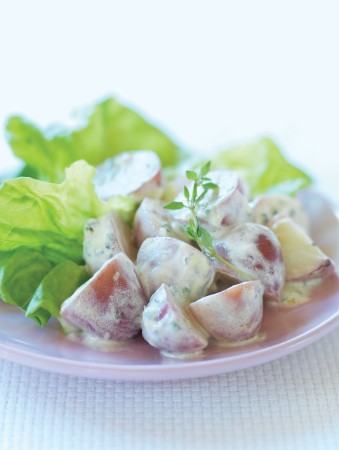 Lemon Herb Potato Salad
Summer 2009
BY: Jennifer MacKenzie
Potatoes soak up zingy vinaigrette fora refreshing twist, and sour cream added last-minute lends a lovely light creaminess.
Dressing
1 tsp (5 mL) finely grated lemon zest
1⁄4 cup (50 mL) freshly squeezed lemon juice
2 tsp (10 mL) Dijon mustard
1 tsp (5 mL) sugar
1⁄2 tsp (2 mL) salt
1⁄4 tsp (1 mL) freshly ground pepper
1⁄3 cup (75 mL) olive oil

Salad
4 lbs (2 kg) mini or baby new potatoes, cut in half or quarters
1 cup (250 mL) sour cream
1⁄4 cup (50 mL) chopped fresh chives
1 tbsp (15 L) chopped fresh tarragon
2 tsp (10 mL) chopped fresh thyme
Salt and freshly ground pepper
1. To make dressing, whisk together lemon zest, lemon juice, Dijon, sugar, salt and pepper. Gradually whisk in olive oil until blended; set aside.

2. For salad, place potatoes in a large pot and cover with cold salted water.Bring to a boil over medium-high heat. Reduce heat and boil gently for about 10 minutes or until tender.Drain and place in a large bowl. Toss with the dressing and let cool. Cover and refrigerate for at least 4 hours or for up to 2 days.

3. To serve, let salad stand at room temperature for about 15 minutes. Add sour cream, chives, tarragon and thyme and toss to coat. Season to taste with salt and pepper.
SHARE