Last-Minute Fresh Fruitcake
Holiday 2018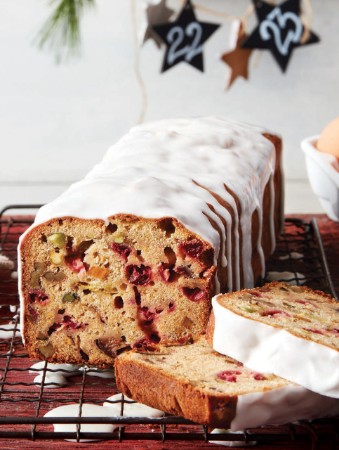 Last-Minute Fresh Fruitcake
Holiday 2018
BY: Jennifer MacKenzie
If you missed stir-up Sunday earlier in the season and don't have fruitcakes ageing in your pantry, or if you're not a fan of the traditional fruitcake loaded with dried fruit and peel, this is the cake for you. It's loaded with fruit for sure—cranberries, figs and oranges along with pistachios and walnuts—but with fresh fruit surrounded by just enough sweet cake to hold it together. The fruit and honey make the cake naturally moist, so it doesn't need to be soaked or aged and it's ready to eat as soon as it's cool (but a little brush of rum or brandy before the icing would be quite all right, too). The simple drizzle icing adds a finishing touch.
1 large orange

2¼ cups (560 mL) all-purpose flour, divided

1½ tsp (7 mL) ground cinnamon

1 tsp (5 mL) baking powder

½ tsp (2 mL) salt

½ tsp (2 mL) freshly grated nutmeg  or ground nutmeg

1 cup (250 mL) butter, softened

1 cup (250 mL) granulated sugar

¼ cup (60 mL) honey

4 large eggs, at room temperature

2 tsp (10 mL) vanilla

1½ cups (375 mL) cranberries,  coarsely chopped

1 cup (250 mL) chopped fresh figs, about 6,  or dry figs (see TIP)

½ cup (125 mL) chopped unsalted pistachios

½ cup (125 mL) chopped walnuts



ICING

1 tbsp (15 mL) butter

1 tbsp (15 mL) milk, approx.

½ tsp (2 mL) vanilla or ¼ tsp (1 mL) almond extract

About 1 cup (250 mL) icing sugar, sifted
1. Preheat oven to 325°F (160°C). Meanwhile, line a 9 x 5-inch (23 x 13-cm) loaf pan with parchment paper, extending about 1 inch (2.5 cm) above top edge of pan.



2. Grate 2 tsp (10 mL) zest from the orange; set aside. Cut peel and pith from orange, then cut out segments in between membranes to make what are called supremes. Chop up enough supremes to make ½ cup (125 mL); set aside. Discard membranes and reserve any remaining orange for another use.



3. Combine 2 cups (500 mL) flour, cinnamon, baking powder, salt and nutmeg in a medium bowl, using a whisk.



4. In the bowl of an electric mixer, beat butter with sugar until fluffy. Beat in honey until blended, then beat in eggs, 1 at a time. Beat in vanilla and reserved orange zest. Stir in flour mixture in 3 additions.



5. In another bowl, combine chopped  oranges, cranberries, figs, pistachios and walnuts; sprinkle with remaining ¼ cup (60 mL) flour and toss gently to coat. Fold into batter, just until evenly distributed. Spread into prepared pan, smoothing top.



6. Bake for about 1 hour and 45 minutes or until tester inserted in the centre comes out clean. Let cool in pan on a rack for 30 minutes. Lift cake from pan using parchment paper and place on the rack; carefully slide parchment from under cake. Let cake cool completely. (The cake can be wrapped and stored at room temperature for up to 2 days. To store longer, refrigerate for up to 4 days.)



7. For the icing, heat butter and milk in a small saucepan over low heat, stirring, for about 1 minute, until butter is melted. Remove from heat and whisk in vanilla, then icing sugar. Add a little more icing sugar or milk, if necessary, to make a thick drizzling consistency. 8 Transfer cake to a serving platter and drizzle icing over top. Let set for 10 minutes. You can cover the cake with a dome for up to 8 hours after icing.
TIP If fresh figs are not available, cut 6 large  soft dried figs in half and place in a bowl. Pour in just enough boiling water to cover; let stand until cooled and figs are plump. Drain off liquid; pat figs dry, then chop.
SHARE