Korean Beef Kebabs
Early Summer 2017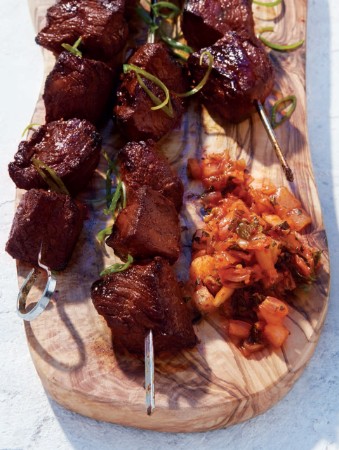 Korean Beef Kebabs
Early Summer 2017
BY: Lucy Waverman
Korean flavouring and beef are a natural partnership. Beef is used a great deal in Korea. Korean-based marinades with gochujang improve the flavour of beef as well as tenderize it. I used beef top sirloin in this recipe, but for a more tender cut use New York sirloin.
BEEF
3 tbsp (45 mL) Gochujang (recipe follows)
2 tbsp (30 mL) dark soy sauce
1 tbsp (15 mL) sesame oil
1 tsp (5 mL) sugar
1 tsp (5 mL) grated garlic
2 lbs (1 kg) beef sirloin steak, cut in 1½ inch (4 cm) cubes

KIMCHI RELISH
½ cup (125 mL) finely chopped kimchi
½ cup (125 mL) finely chopped green onions
½ cup (125 mL) diced Asian pear
2 tbsp (30 mL) chopped shiso leaves or mint
½ tsp (2 mL) sugar
½ tsp (2 mL) sesame oil
Salt
2 tbsp (30 mL) vegetable oil for grilling
1. Combine gochujang, soy, sesame oil, sugar and garlic. Toss in a bowl with beef. Leave to marinate for 1 hour on the counter.

2. Combine kimchi, green onion, pear, shiso leaves, sugar and sesame oil. Season with salt to taste.

3. Heat grill to high. Thread beef onto skewers. Brush with oil. Grill about 2 to 3 minutes on all 4 sides (about 8 to 12 minutes total) or until medium-rare. For medium, grill 2 or 3 minutes longer.

4. Place on serving plates and serve with kimchi relish and rice.
SHARE