Kentucky Pimento Cheese Fritters
Autumn 2015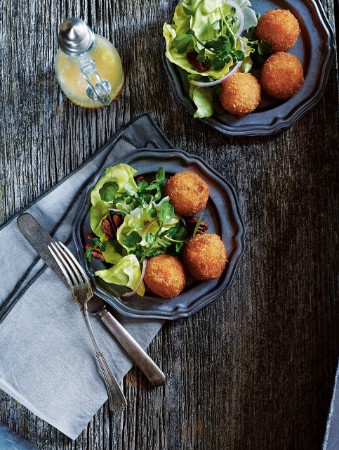 Kentucky Pimento Cheese Fritters
Autumn 2015
BY: Amy Rosen
The warm crispy coating encasing the famous sharp cheese blend of the Deep South is a perfect match with the flavourful salad. Serve with a crusty loaf in case people want to crack open the fritters and spread the love over chunks of bread.
1 lb (500 g) sharp cheddar cheese, chopped
8 oz (250 g) block cream cheese
1 jar (340 mL) pimentos (a.k.a. roasted red peppers) drained, patted dry and chopped
½ tsp (2 mL) cayenne pepper
2 dashes Worcestershire
¾ cup (175 mL) all-purpose flour
3 large eggs, lightly beaten
2 cups (500 mL) panko (Japanese bread crumbs)
Vegetable oil, for frying
1 Add cheddar to food processor and pulse a few times until cheese becomes pea-sized granules. Add cream cheese, pimentos, cayenne and Worcestershire; pulse to combine, then chill mixture for 1 hour before scooping into 1½-inch (4-cm) balls, about the size of a golf ball.

2 Prepare your breading station by adding flour to 1 bowl, lightly beaten eggs to another, and panko to a third. Line a baking sheet with parchment paper.

3 One at a time, roll cheese balls in flour to coat, then dip in egg, and drain excess. Finally, roll in panko to coat. Transfer balls to the parchment-lined sheet. Continue doing this until cheese mixture is gone. You should have at least 15 balls. Chill for at least 1 hour.

4 Heat 2 to 3 inches (5 to 8 cm) of oil in a large, heavy-bottom skillet with high sides to 350° to 365°F (180° to 185°C). Fry cold fritters 2 at a time for about a minute, keeping them rolling with a slotted spoon or tongs (to avoid their leaking), until golden. Some cheese may escape and cause sputtering. Stay calm. Remove with a slotted spoon to drain on paper towel. Serve immediately with Bibb Salad with Bourbon Vinaigrette (recipe follows).

BIBB SALAD WITHBOURBON VINAIGRETTE

Airy greens and nutty watercress get hit with sweet pecans and a sly vinaigrette that's a tip of the hat to the famed Bourbon distilleries of Kentucky. It's also a perfect match with rich cheese fritters.

1 tbsp (15 mL) butter
2 tbsp (30 mL) brown sugar
1 cup (250 mL) pecan halves
Pinch chili flakes
Pinch sea salt

BOURBON VINAIGRETTE
⅓ cup (80 mL) apple cider vinegar
2 tbsp (30 mL) maple syrup
3 tbsp (45 mL) bourbon
2 tsp (10 mL) Dijon mustard
¼ tsp (1 mL) salt
Freshly ground pepper to taste
½ cup (125 mL) olive oil

5 cups (1.25 L) bibb lettuce (2 heads)
2 cups (500 mL) trimmed watercress
½ small red onion, thinly sliced into half moons
1 In a frying pan over medium-low heat, heat butter and sugar together until sugar has melted, then add pecans and seasonings, toss, making sure nuts don't burn. When pecans are nicely coated and smelling like heaven, carefully pour them onto a parchment- or foil-lined baking sheet, spreading them out to cool.

2 Whisk together vinegar, maple syrup, bourbon, Dijon, salt and pepper in a medium bowl. Slowly drizzle in oil in a steady stream, whisking until smooth. Makes approximately 1 cup (250 mL). Store leftovers in refrigerator for up to 2 weeks.

3 To finish salad, add lettuce, watercress and onion to large serving bowl. Lightly dress with vinaigrette, toss with candied pecans and serve.
SHARE