Icewine Ginger Rhubarb Float
Spring 2005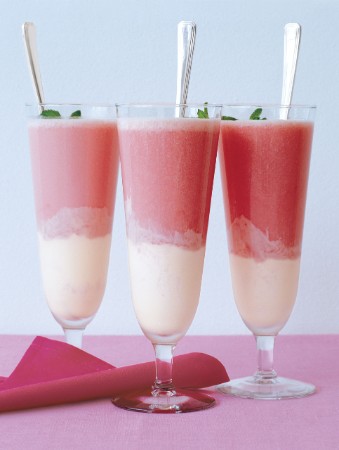 Icewine Ginger Rhubarb Float
Spring 2005
BY: Lucy Waverman
This outstanding dessert is a rhubarb consommé which is an intense rhubarb sauce, floating atop a very gingery ice cream. You can make this rich, creamy ginger ice cream from scratch following the recipe below, or you can buy a pint (500 mL) good quality vanilla ice cream and stir 1 tbsp (15 mL) ginger juice into it. To obtain ginger juice, grate a 3-inch (7.5-cm) piece of ginger onto some cheesecloth. Wring out the cheesecloth over a bowl and the juice will seep through. This will give you about 1 tbsp (15 mL) juice. Beat into ice cream.
Ginger Ice Cream
6 egg yolks
1¼ cups (300 mL) granulated white sugar
¼ tsp (1 mL) salt
4 cups (1 L) whipping cream
2 oz (60 g) ginger, peeled and cut into ½-inch (1-cm) pieces

Rhubarb Consommé
8 cups (2 L) rhubarb, cut into 1-inch (2.5-cm) pieces
1 cup (250 mL) Icewine or Late Harvest Riesling
½ cup (125 mL) granulated white sugar
1 stalk lemon grass, crushed and chopped into 1-inch (2.5-cm) pieces
6 sprigs mint
1 cup (250 mL) sparkling water
1. Place the egg yolks, sugar and salt in a large stainless steel bowl. Whisk until smooth.

2. Place cream and ginger in a saucepot over medium-high heat and bring to the boil. Remove from heat and allow mixture to steep for 1 hour.

3. Return ginger cream to boil and gradually whisk it into the egg yolk mixture. Reduce heat to medium-low and cook until mixture coats the back of a spoon. Refrigerate this ice cream base until cold-not frozen-then strain out the ginger pieces.

4. Freeze according to ice cream machine instructions. (If you do not have an ice cream machine, then freeze in a bowl, stirring every half hour. It will not have the same texture that a machine provides.)

5. For consommé, fill a large pot half-full with water. Bring to a boil over a high heat.

6. Place the rhubarb, icewine, sugar, lemon grass and 2 sprigs of mint into a medium-sized stainless steel bowl and cover with plastic wrap.

7. Place the covered bowl onto the pot of hot water. Reduce heat to low and cook over the water for 1 hour. Remove from heat and leave to cool. Strain the rhubarb consommé and chill. (The rhubarb can also be sweetened and used to make rhubarb mousse, if desired.)

8. To assemble the float, place 2 scoops of the ginger ice cream into tall glasses. Top with rhubarb consommé and splash with sparkling water. Garnish with remaining fresh mint sprigs.
SHARE