Icewine-Braised Pears with Marmalade Crème Patissière
Winter 2013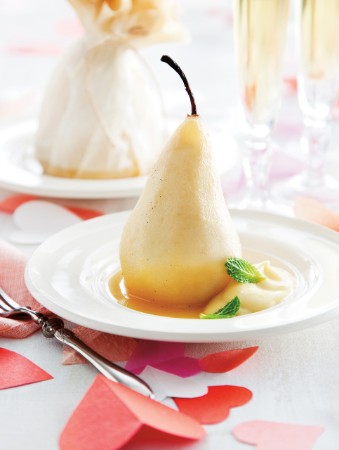 Icewine-Braised Pears with Marmalade Crème Patissière
Winter 2013
BY: Christopher St. Onge
Cooked in parchment and tied with string, these braised pears can be unwrapped at the table to reveal warm soft fruit and a decadent icewine sauce. A spoonful of marmalade-flavoured custard alongside practically guarantees appreciation.
MARMALADE CRÈME PATISSIÈRE
2 egg yolks
2 tbsp (30 mL) sugar
1 tbsp (15 mL) flour
1 tbsp (15 mL) plus 1 tsp (5 mL) cornstarch
¾ cup (175 mL) half & half cream
¼ cup (60 mL) marmalade
1 tbsp (15 mL) Grand Marnier or brandy

ICEWINE-BRAISED PEARS
2 firm but ripe Bosc pears
½ lemon
1 vanilla bean, sliced in half lengthwise
2 pieces parchment, cut into circles 13 inches (32 cm) in diameter
¼ cup (60 mL) Vidal icewine
2 tsp (10 mL) unsalted butter, melted
1 In a medium-size heatproof bowl, whisk together egg yolks, sugar, flour and cornstarch until smooth.

2 In a small saucepan over medium heat, combine half & half cream, marmalade and Grand Marnier. Bring to a boil. Whisk to break up and dissolve marmalade; remove from heat. Pour into egg mixture in a slow and steady stream down the side of the bowl, whisking constantly. Scrape mixture back into saucepan and return to low heat, continuing to whisk until mixture comes to a gentle boil. Cook for an additional minute; remove from heat. Pour into a small bowl, cover with cling wrap and refrigerate until completely chilled, about 3 hours. (Crème patissière can be made up to 2 days in advance.)

3 Preheat oven to 325°F (160°C).

4 Peel pears, but leave stems intact. Rub cut side of the lemon over pears, squeezing lemon to release juice. Working from the bottom of each, cut out cores with a sharp knife, scraping to remove seeds if necessary. Tuck one half vanilla bean into each pear, folding to fit.

5 Using two 1-cup (250-mL) ramekins (or 2 small cereal bowls), centre 1 piece of parchment over each. Gently lower pears into ramekins, causing parchment to cup pears. Divide icewine and butter between pears. Gather parchment around stems and tie each snugly with kitchen twine into a shoelace-style knot.6 Bake in ramekins (if using cereal bowls to shape, remove from bowls and place packages directly on a cookie sheet) for 60 to 75 minutes, or until soft and tender when gently squeezed through parchment. Remove packages from ramekins (if using) and serve warm on individual dessert plates with a spoonful ofMarmalade Crème Patissière.
SHARE