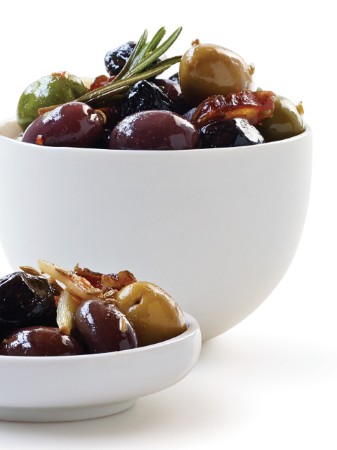 BY: Heather Trim
For me, the perfect hors d'oeuvre is one that teases your hunger but doesn't fill you up. It's easy to prepare, with minimal shopping, looks good and goes perfectly with a Campari and Soda. Start with everyday store-bought olives and build from there. The flavour of the seasoned olives, along with the tiny hits of sweetness from the dates, is a perfect combo. This pre-dinner nibble will have your friends wondering where you bought them.
3 Medjool dates
1½ cups (375 mL) pitted or unpitted olives, preferably mixed in colour and type
2 tbsp (30 mL) olive oil
2 cloves garlic, very thinly sliced
1 tsp (5 mL) fennel seeds
2 small sprigs rosemary
⅛ tsp (0.5 mL) chili flakes
1 orange or lemon
1½ tsp (7 mL) sherry or red wine vinegar
1. Pit dates by breaking in half and removing pit. Then slice each half crosswise into thin strips. Place in a medium bowl. Rinse olives in a sieve and drain well. Pat dry. In a medium frying pan, heat oil over medium heat. Add garlic, fennel seeds, 1 sprig of rosemary cut in half, and chili flakes. Using a vegetable peeler, peel off 2 strips of citrus peel and add to pan. Stir 2 to 3 minutes, just until garlic is light golden brown.

2. Add olives to pan and stir until hot, about 1 minute. Stir in vinegar.

3. Add olive mixture to the dates, making sure to evenly distribute dates. Let marinate at room temperature, stirring occasionally, preferably for a couple of hours. But if you are really pressed for time, serve immediately. Garnish with remaining sprig of rosemary.
SHARE