Hot Sorrel & Rum
Spring 2019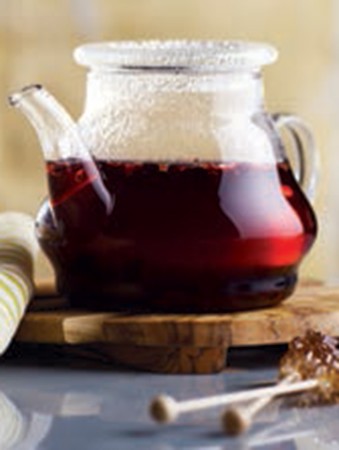 Hot Sorrel & Rum
Spring 2019
BY: Victoria Walsh
Jamaican hibiscus flowers, or sorrel, are essential to a classic Caribbean holiday punch—a sour-sweet, slightly spicy crowd pleaser. Pretty dried sorrel (hibiscus) flowers infuse a bright purple hue into this cocktail, making it most impressive when prepared right at the table. 
½ cup (125 mL) dried sorrel leaves or 2 tsp (10 mL) loose-leaf hibiscus tea
3 whole allspice
1 whole star anise
1 whole clove
2 oz amber or dark rum
Lime wedge
Cane sugar, preferably crystal rock
Put the kettle on to boil. Place sorrel, allspice, star anise and clove in a warmed teapot for 2, preferably a glass teapot for presentation. When water comes to a rolling boil, slowly pour 2 cups (500 mL) into prepared teapot over ingredients. If using sorrel, steep for 6 minutes; and if using hibiscus, steep for 4 minutes. When steeped and flavourful, strain and pour into warmed mugs. Stir 1 oz rum into each mug. Squeeze a little lime juice into each. Sweeten to your liking with cane sugar. 
SHARE