Honey-Garlic-Rosemary Lamb Chops
Early Summer 2015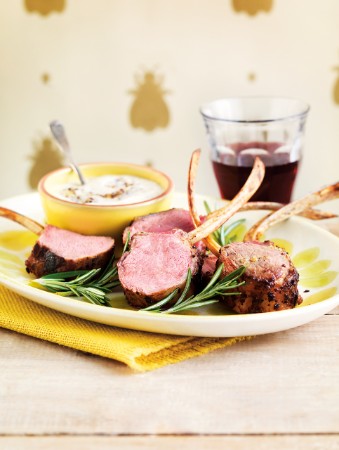 Honey-Garlic-Rosemary Lamb Chops
Early Summer 2015
BY: Signe Langford
This elegant appetizer tastes best when given a full 24 hours in the sweet and savoury marinade; it's delicious roasted in the oven or done on the grill.
2 lbs (1 kg) small (or "lollipop") rack of lamb chops, frenched bones; about 18 chops
½ cup (125 mL) olive oil
2 tbsp (30 mL) honey
1 tbsp (15 mL) grainy mustard
Zest of 1 lemon
2 cloves fresh garlic, finely minced or grated
2 tbsp (30 mL) fresh rosemary, finely minced
Freshly ground pepper to taste
Sea salt to taste
Honey-Mustard Mayo Dip (recipe follows)

1 Place the whole lamb rack(s) of chops into a small glass or ceramic container to marinate overnight.

2 In a large bowl, stir together the olive oil, honey, mustard, lemon zest, garlic, rosemary and pepper.

3 Pour the honey marinade over the chops a bit at a time, making sure to cover the meat well. Remember to get the liquid under the chops, too. Cover and pop into the fridge for 24 hours.

4 When ready to cook and serve, bring the chops out to come to room temperature— should take about an hour—and fire up the grill to medium flame, or if roasting, preheat oven to 450°F (230°C).

OVEN METHOD:
5 Place a very large heavy-bottom, oven-safe skillet or cast iron pan over medium heat; must be big enough to accommodate the rack of chops.

6 When the pan is hot, shake excess marinade off the chops and sear to a golden crust on all sides, about 2 minutes per side, adjusting the heat level as need be, being careful not to burn the sugars in the honey.

7 When seared all over, pop the pan into the oven and roast for about 10 minutes for medium- rare. Let rest for 15 minutes before cutting the rack into chops.

8 Salt to taste.

GRILL METHOD:
5 Preheat barbecue to medium flame or 350°F (180°C).

6 Wrap the bare bones with aluminum foil, as they burn easily and become brittle.

7 Shake off excess marinade and lay on hot grill. Be mindful to watch for flaring as oil drips down; adjust height of flame, or position as needed. Grill to medium-rare, about 10 to 15 minutes, turning every so often.

8 Salt to taste.

TO SERVE:
9 Can be served 2 per person as a plated appetizer, or passed as an hors d'oeuvre; lay all the chops on 1 large platter. Serve with either a drizzle or small dish of Honey-Mustard Mayo Dip for dipping.

Makes 16 to 20 chops depending on rack size

HONEY-MUSTARD MAYO DIP

Our lamb chops are delightful on their own, but a splash of this rich, garlicky, sweet and tart mayo takes them over the top!

½ cup (125 mL) good-quality mayonnaise
1 tbsp (15 mL) honey
1 clove garlic, finely minced or grated
Juice of half a lemon
2 tsp (10 mL) grainy mustard
Freshly ground black pepper to taste
1 Place all ingredients into a bowl, and whisk together until smooth. This can be made up to three days ahead, kept covered and refrigerated.
Makes just over ½ cup (125 mL)
SHARE