Honey & Curry-Roasted Chicken & Brie Crêpes
Early Summer 2015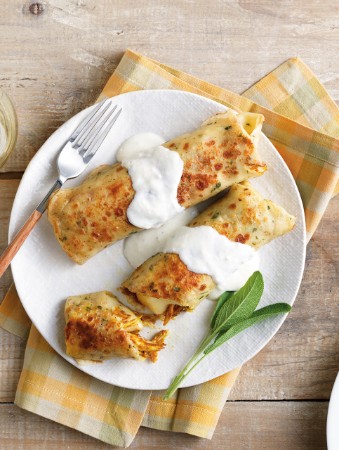 Honey & Curry-Roasted Chicken & Brie Crêpes
Early Summer 2015
BY: Signe Langford
Moist, spicy and delicious, with just a hint of honey sweetness, the slow-roasted chicken pairs beautifully with the richness of the brie. Chicken can be prepared a day or two ahead; store tightly covered in the fridge and bring to room temperature just before using. Crêpes should not be assembled ahead of time.
Nonstick cooking spray or oil
3 skinless, boneless chicken breasts, about 1½ lbs (750 g)
2 tbsp (30 mL) olive oil
2 tbsp (30 mL) honey
2 tbsp (30 mL) good-quality curry powder
1 tsp (5 mL) ginger powder
1 tsp (5 mL) garlic powder
1 tsp (5 mL) cumin powder
1 tsp (5 mL) onion powder
1 tsp (5 mL) ground coriander
¼ tsp (1 mL) cayenne pepper
Freshly ground black pepper to taste
Pinch nutmeg
12 Crêpes (recipe follows)
¾ to 1 lb (375 to 500 g) piece of brie, rind on, sliced into 12, approximately ¼ inch thick
(5 mm) slices, about 5 inches (12 cm) long
2 tsp (10 mL) butter
Honey-Ginger Yogurt Sauce (recipe follows)
1 Preheat oven to 350°F (180°C).

2 Spray or oil the bottom of a small roasting pan or ovenproof dish. Place the chicken breasts in the pan and set aside.

3 In a small bowl, mix the rest of the ingredients up to and including nutmeg until they form a wet paste.

4 Using the back of a soup spoon, spread about a spoon's worth of the spice paste over the first sides of the chicken breasts; flip and repeat. Discard any leftover paste.

5 Cover with foil and roast for about 1 hour. When done, transfer chicken to a plate to cool. Once cool, slice lengthwise into 1/4-inch (5‑mm) slices and return to plate; re-cover and set aside until it's time to assemble the crêpes.

6 To fill the crêpes, lay a crêpe on the counter, golden side up. (This is the side you will be filling; the pale side is the side that will be going back into the pan.)

7 Place a few slices of chicken onto the centre of the crêpe; top the chicken with a slice of brie.

8 Fold the top of the crêpe over the filling, then bring in each end, and finally bring the bottom up. Set aside, seam-side down, and keep filling crêpes until ready to fry, just before serving.

9 In a large skillet over medium heat, add about 2 tsp (10 mL) butter. When melted, lay in the filled crêpes, seam-side down (the frying will seal the opening), a few at a time. Do not overcrowd the pan. Fry until crispy and golden, and flip until the second side is also golden. Transfer to individual plates—2 per person as a main—or onto one big platter to serve family style. Drizzle with Honey-Ginger Yogurt Sauce.

CRÊPES

Golden crêpes, stuffed and sauced with something delicious, look and taste way more difficult than they are, once you get the hang of it. Each step is easy and can be done ahead (see TIP). Crêpe batter will perform better if made the day before and allowed to mature in the fridge for 24 hours. I like to make the batter in a big jug, using an immersion blender; it makes for easy pouring into the pan.

2 cups (500 mL) all-purpose flour
Freshly ground black pepper to taste
2 free-run eggs
3 cups (750 mL) whole milk
2 tbsp (30 mL) oil or melted butter
1 tbsp (15 mL) very finely minced fresh sage leaves
Nonstick spray
EASY JUG METHOD:

1 Place all ingredients except the sage into a large jug. Using an immersion blender, blend until perfectly smooth. Remember to scrape down the sides from time to time. A clear jug will show you where the dry ingredients are stuck.

2 Cover and refrigerate for 24 hours.

3 Add the sage and stir.

BOWL METHOD:

1 In a large bowl, whisk flour with pepper.

2 In a second bowl, whisk together eggs, milk and oil; pour over dry ingredients and whisk until smooth. Cover and refrigerate for
24 hours.

3 Add the sage and whisk to incorporate. to cook :


1 Heat a 10-inch (25-cm) crêpe pan or low sided skillet over medium heat.

2 When the pan is hot, give a light spray with nonstick coating.

3 With one hand, pour or ladle about ¼ cup (60 mL) of the batter into the centre of the pan; with the other hand, tilt and swirl the pan to coat with batter. Don't panic; if there are gaps, just add a drop more batter. If you over-pour, it's fine to pour excess batter back into the jug.

4 Shake and swirl the pan back and forth; when the crêpe dislodges from the pan, it's time to flip. Should be about 1 minute.
5 Use an offset or regular spatula and flip the crêpe. The second side doesn't need to be golden; just cooked past raw; about 30 seconds. Transfer to a plate. Feel free to stack one on top of the other; they don't tend to stick unless kept that way for several days.

TIP Crêpes can be made as much as 4 days in advance, but if so, place a sheet of parchment or waxed paper between each one, cover the stack tightly in plastic wrap, and keep in the fridge. Oh, and don't worry, the first crêpe is, nine times out of ten, an epic fail, even for the experts!
YOGURT SAUCE

A gingery riff on traditional Indian raita, this sauce is a perfect match for the complex, spicy chicken.

1 cup (250 mL) plain Greek yogurt
2 tbsp (30 mL) fresh ginger, grated or finely minced
1 tbsp (15 mL) liquid honey
Pinch nutmeg
Freshly ground black pepper to taste
1 In a medium bowl, whisk together yogurt, ginger, honey, nutmeg and pepper until smooth. Make the day of and set aside in the
fridge until ready to use.
Makes about 1 cup (250 mL)
SHARE