Hollow Ice Spheres
Holiday 2020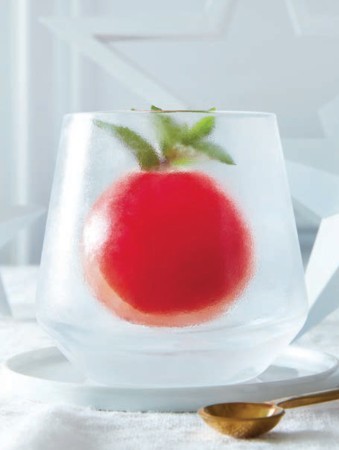 Hollow Ice Spheres
Holiday 2020
BY: Charlene Rooke
To make these wow-factor hollow ice spheres you'll need 2½ inch (6-cm) silicone ice-sphere moulds, which come in singles as well as in trays of multiples, plus a tiny funnel. A culinary syringe or flavour-injector makes quicker work of filling them. Start experimenting several days before entertaining to determine optimal freezing times and perfect your technique. Even if the spheres crack or melt, you'll have delicious, icy cocktails!
 1. Fill a silicone ice-ball mould with water according to the manufacturer's instructions. Place mould in a high air-circulation area of the freezer, ideally on a rack, and freeze for at least 2 hours. Invert the mould and freeze for approximately 2 hours. The sphere is ready when the ice appears to be at least 1/4 inch (5 mm) thick; the interior will still be liquid.

2. Pre-freeze an empty shallow plastic container (deep enough to hold finished spheres, with a lid). Remove ice spheres from moulds, if necessary briefly running under cold water (not warm or hot, which may cause it to crack) to help release them. Place in a frozen plastic container and work with 1 sphere at a time, with any additional spheres remaining in the freezer. Place a single sphere back in a silicone mould to stabilize/hold it, with a fill-hole facing up, and use the sharp tip of a paring knife or a metal skewer to carefully carve a small hole, approximately 1/4 inch (5 mm) or the diameter of your syringe or dropper and funnel in partially frozen ice ball. The tip of the knife, skewer or culinary syringe (if using) can be warmed under hot water to help form the opening.

3. Using a culinary syringe or dropper, and working as quickly as you can, extract remaining water from the inside sphere.

4. Carefully place hollow spheres, positioned with holes at the top, in a frozen plastic container and cover with a lid. Return to the freezer for at least 3 to 4 hours or overnight before filling and serving.

5. See Breaking the Ice Negroni (recipe follows) for instructions on filling.
BREAKING THE ICE NEGRONI

Creating this bar-calibre drink at home is not difficult but may require a little trial and error with freezing times and ice thicknesses: start experimenting a few days before entertaining.

1 oz gin
1 oz red (sweet) vermouth
1 oz Campari
1/2 oz cold water
Hollow ice spheres
Fresh mint or rosemary sprig
1. For each drink, combine gin, vermouth and Campari with water; stir well and chill in freezer for at least 30 minutes. Freeze thick-glass serving tumblers (diameter slightly larger than ice spheres) for at least 30 minutes.

2. Remove a hollow ice sphere from freezer and, using a large spoon and holding glass sideways, carefully lower sphere into frozen glass, fill-hole facing up. If necessary, use a chopstick or straw to hold in place. Using a culinary syringe or small funnel, inject approximately 3 oz Negroni into ice sphere until full.

3. Place a sprig of fresh mint or rosemary in fill hole to garnish. Serve with a muddler or metal spoon to crack sphere.
SHARE