Holiday Turkey Club
Holiday 2012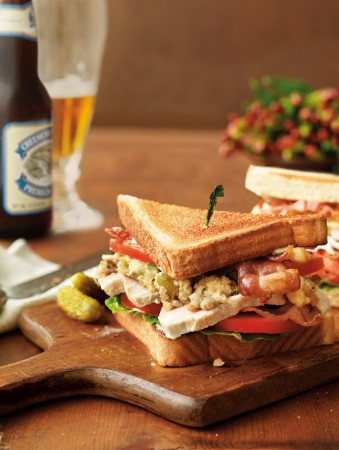 Holiday Turkey Club
Holiday 2012
BY: Heather Trim
In a classic layered club, three slices of bread are used. For a holiday spin, why not eliminate the middle slice and layer with stuffing instead.
8 slices bacon
4 slices white sandwich bread, toasted
Mayonnaise
4 romaine lettuce leaves
1 tomato, cut into 8 thin slices
Salt and freshly ground black pepper
4 to 6 thin slices leftover turkey, cut to fit bread
1 cup (250 mL) leftover turkey stuffing
Toothpicks, optional
1 Cook bacon in a large frying pan over medium heat until crisp.

2 Just before bacon is cooked and sandwiches are ready to assemble, toast bread. Spread 1 side of each slice with mayonnaise.

3 Top 2 slices with lettuce, tearing to fit, then 2 tomato slices. Season with pepper. Follow with 2 slices bacon, tearing to fit, then turkey slices. Season with salt and pepper.

4 Divide stuffing in half and press onto turkey to form a layer. Repeat layering, ending with bread. Using a serrated knife, slice sandwiches in half diagonally. Secure with toothpicks.
SHARE