Holiday Poutine
Holiday 2013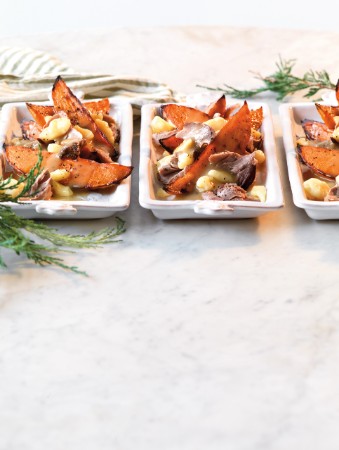 Holiday Poutine
Holiday 2013
BY: Signe Langford
This fully-loaded play on the Quebec classic combines the fun of fast food and the unmatched comfort of a traditional Christmas dinner. Don't discard those roasted and boiled wings from the gravy recipe. They're good snacking or can be shredded and added to the turkey leg meat.
2 turkey drumsticks
2 tsp (10 mL) dry poultry seasoning
1 tsp (5 mL) sea salt and pepper to taste
¼ cup (60 mL) olive or vegetable oil, divided
½ cup (125 mL) ruby port
½ cup (125 mL) pure, unsweetened cranberry juice
1 cup (250 mL) chicken broth
1 sprig fresh rosemary
1 sprig fresh sage
2 bay leaves
2 large sweet potatoes, peeled, cut into approx. 2 inch (5 cm) wedges
2 cups (500 mL) white cheese curds
Make-Ahead No Big Bird Gravy (recipe follows)
1 Season turkey all over with poultry seasoning, salt and pepper. Set aside in the refrigerator to marinate for at least 1 hour and up to overnight.

2 In a high-sided pan with lid over medium-high heat, add 1 tbsp (15 mL) of the oil and the drumsticks, browning the skin on all sides.

3 When brown, add the port, cranberry juice, broth and herbs, and cover.

4 Reduce heat to low and braise, with the lid tightly on, for about 45 minutes to 1 hour. When done, uncover and set aside to cool.

5 Preheat oven to 450°F (230°C).

6 While turkey is braising, prepare the sweet potato wedges. In a large bowl, add wedges, salt and pepper to taste, remaining 3 tbsp (45—mL) of oil and toss until all the wedges are well coated and seasoned.

7 Tumble onto a parchment-paper-lined baking sheet, spread out in a single layer and pop into the oven. After about 15 minutes, rotate the pan so the wedges bake evenly.

8 Check again in another 15 minutes. Wedges should be tender and golden at the edges.

9 While wedges are baking, using clean hands, pull the meat and skin off the bones and shred into small pieces. Set aside.

10 To serve, place 3 or 4 wedges on each small plate, top with curds and meat—divided equally between the 6 servings. Bring the hot gravy to the table in a jug or gravy boat, so diners can enjoy as much or as little as they want.

MAKE-AHEAD NO BIG BIRD GRAVY

Sometimes we want gravy, but we don't want to roast a whole turkey. This one's simple and delicious and can be kept on hand for hot turkey sandwiches, fries, mashed potatoes, or wherever a splash of gravy makes things that much yummier!

4 turkey wings or 10 chicken wings (if turkey can't be found)
1 large onion, peeled and coarsely chopped
½ cup (125 mL) water
2 carrots, coarsely chopped (no need to peel)
2 celery stalks, coarsely chopped
5 sprigs thyme
1 bay leaf
2 sprigs sage
5 cups (1.25 L) chicken stock, divided
¼ cup (60 mL) flour
2 tbsp (30 mL) butter
Pepper to taste
Salt
1 Preheat oven to 375°F (190°C).

2 Lay wings in a roasting pan and tumble the onions on top. Roast for about 1 hour or until the wings have browned.
3 Add the roasted wings and onion to a large stockpot. Set aside.

4 Add the water to the hot roasting pan and, with a flat-edged spatula, scrape all the roasted brown bits off the bottom of the pan. Pour this deglazing water into the stockpot with the wings.

5 Move stockpot to stove over medium-high heat, add the vegetables, herbs and 4 cups (1›L) of the chicken stock. Stir, and bring to a boil.

6 Reduce heat to low and simmer uncovered for 1 to 1½ hours.

7 With a slotted spoon or tongs, remove the wings and set aside.

8 Pour the contents of the stockpot through a sieve or fine colander into a saucepan. Using the back of a spoon, push on the soft vegetables to draw out as much juice and flavour as possible. Discard the herbs and vegetables.

9 In a small bowl, using a whisk, beat the remaining cup of stock with the flour until smooth.

10 Over medium heat, bring the turkey liquid to a good simmer and add the flour stock, whisking constantly as you add. Continue to
simmer and whisk until the liquid turns into a thick gravy; about 5 minutes. Whisk in the butter and pepper and taste for salt. The stock may have added enough salt. Leftovers can be frozen for up to 3 months or stored, covered, in the refrigerator for up to 1 week.
SHARE