Herb Roasted Chicken with Paprika Potatoes
Autumn 2006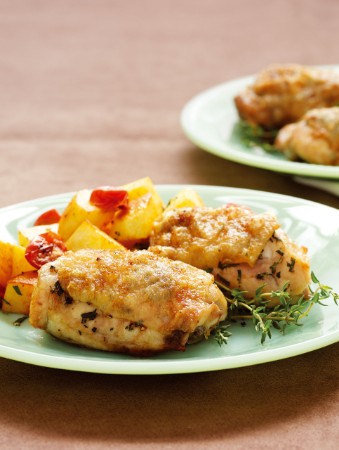 Herb Roasted Chicken with Paprika Potatoes
Autumn 2006
BY: Heather Trim
Use up those last fall herbs in this easy one-dish dinner. Smoked paprika can be bought in hot or sweet versions. This dish is better suited to sweet, as the hot one would be too spicy.
1 large sprig fresh rosemary
3 sprigs fresh thyme
2 tsp (10 mL) butter, at room temperature
1 clove garlic, minced
Salt and freshly ground pepper
4 skin-on, bone-in chicken thighs
2 potatoes
Olive oil
¼ tsp (1 mL) paprika, preferably smoked
½ cup (125 mL) grape tomatoes, halved
1. Preheat oven to 400ºF (200ºC).

2. Using parchment paper, line a large baking sheet with shallow sides.

3. Remove leaves from rosemary and thyme and coarsely chop (you should have about 2 tbsp/25 mL). Place half in a small bowl. Stir in butter, garlic and a pinch salt and pepper. Evenly divide mixture and stuff under chicken skin. Sprinkle chicken with salt and pepper. Place on 1 side of the baking sheet. Bake in centre of preheated oven 10 minutes.

4. Meanwhile, peel potatoes and cut into large bite-size chunks. Place in a bowl and drizzle with oil, then sprinkle with salt, pepper and paprika. Toss until evenly coated. After 10 minutes, place on baking sheet with chicken and continue to bake, basting chicken and turning potatoes occasionally, for 25 minutes. During the last 5 minutes, scatter tomatoes on baking sheet. Serve, sprinkling chicken with remaining chopped herbs.
SHARE