Herb & Garlic Pork Loin with Crackling
Summer 2017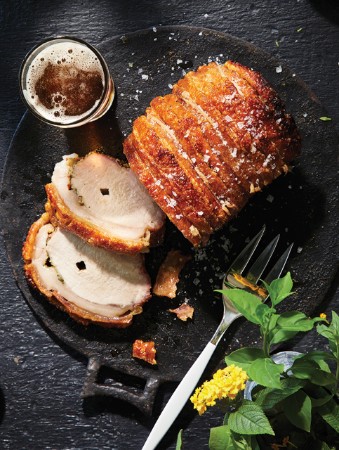 Herb & Garlic Pork Loin with Crackling
Summer 2017
BY: Christopher St. Onge
Cooking pork with the skin on is tailor-made for the rotisserie. Suspending the meat on a revolving spit slowly renders the fat under the skin, self-basting the roast in the process. A jolt of high heat at the end bubbles and crisps the skin, turning it into delectable  crackling. Ask your butcher for a pork loin with the skin and fat cap still attached and in one piece. If possible, request that it be cut to include a few extra inches of skin to wrap roll-style around the loin.
4 lbs (2 kg) skin-on pork loin, with several inches of extra skin if possible

HERB & GARLIC PASTE

3 tbsp (45 mL) olive oil
4 cloves garlic, finely chopped
2 tbsp (30 mL) chopped rosemary
1 tbsp (15 mL) chopped thyme
¼ cup (60 mL) chopped sage
Zest from 1 large lemon
½ tsp (2 mL) salt
¼ tsp (1 mL) dried chili flakes
Salt and freshly ground pepper
1. Using a sharp knife, score skin about ⅛ inch (3 mm) deep from end to end, perpendicular to the length of the roast. Repeat in ¼-inch (5-mm) intervals (the tight spacing allows the fat to render and helps to ensure a crisp result). Be careful to avoid cutting through to the flesh.

2. In a small bowl, combine all of the ingredients for the Herb & Garlic Paste except the salt and pepper. Place the roast, skin-side  down, on a board; season exposed meat generously with salt and pepper. Spread the paste evenly overtop, avoiding the skin. If excess skin was provided, wrap around meat (it's not necessary to completely enclose). Tie in several places with twine, and set, skin-side up, on a plate. Refrigerate, uncovered, for 4 to 6 hours. Remove roast from fridge half an hour before cooking.

3. Set up your gas or charcoal grill for rotisserie cooking and maintain a temperature of 350°F (180°C). Set a drip tray (a disposable aluminum roasting pan is best) half filled with water under where roast will turn. Keep a pitcher of water handy to refresh water as necessary.

4. Season skin liberally with salt. Thread spit lengthwise through the centre of roast and secure with picks. Mount in rotisserie brackets and turn rotisserie on. Cook for 1½ to 2 hours, depending on thickness, until a thermometer inserted into thickest part registers 140°F (60°C). Increase the heat to high and maintain a temperature of 550°F (290°C). Cook 8 to 12 minutes longer or until the skin bubbles and crisps.

5. Remove to board and let rest, skin-side up, for 15 minutes before carving into slices.
SHARE