Hazelnut Cream Florentine Cake
Holiday 2012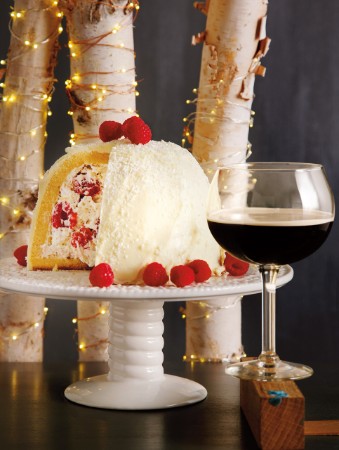 Hazelnut Cream Florentine Cake
Holiday 2012
BY: Monda Rosenberg
A snowy dome of hazelnut liqueur-soaked cake filled with rich vanilla cream is a stunning dessert for the season. Studded with nuts, ruby berries and chocolate, its showstopper looks are only outshone by its true European cream cake flavour. Store-bought pound cakes are available and can be used in this recipe but they vary in size and all are smaller than our homemade version. While their flavour and texture work because of the way the dome is constructed you will not be able to make it as high as when using a homemade cake. Thus it may not hold all of the filling, but any extra filling is marvellous served with berries on the top.
Golden Pound Cake (recipe follows)
½ cup (125 mL) finely chopped milk chocolate or white chocolate
½ cup (125 mL) Frangelico liqueur, divided
½ cup (125 mL) mascarpone cheese
3 tbsp (45 mL) granulated sugar, divided
½ tsp (2 mL) pure vanilla extract
11/3 cups (330 mL) whipping cream, divided
1 pkg (100 g) flaked filberts
1 pint (475 mL) fresh raspberries (optional)
14 oz (425 g) premium-quality white chocolate
1 Prepare pound cake and cool. Finely chop chocolate and set aside.

2 As a mould for the dessert, select a domed bowl that will hold 6 cups (1.5 L), about 4 inches (10 cm) high and 8 inches (20 cm) wide at the top. Line with 2 long pieces of clear plastic wrap, letting ends overhang the bowl. Turn Golden Pound Cake on its side, cut lengthwise into 1/3-inch-thick (8-mm) slices (you should have approximately 9 slices). Set aside the bottom slice as well as the smaller top slice to use as dome bottom. Cut remaining slices diagonally in half forming 2 triangles each. Use them to line bowl by first laying triangles with points meeting in the middle of the bottom of the bowl, forming a petal pattern. Snugly fill with remaining triangles, cutting to fill in gaps. It is all right to overlap a few pieces. Press cake firmly against the bowl. Using about ¼ cup (60 mL) liqueur, brush and dab it generously over all the cake pieces.

3 Prepare filling by placing mascarpone in a medium-size bowl. Add 2 tbsp (30 mL) each of liqueur and sugar. Add vanilla. Whip with electric beaters until evenly mixed. Then place 1 cup (250 mL) whipping cream (reserving 1/3 cup for coating) in a small deep mixing bowl along with 1 tbsp (15 mL) sugar. Whip until cream will hold soft peaks when beaters are lifted. To lighten mascarpone mixture, stir in about a quarter of the sugar-whipped cream. Gently fold in the remaining. Fold in milk chocolate and filberts. Gently stir in about half the raspberries, saving some for garnish.

4 Spoon into cake-lined bowl and roughly smooth surface. Generously brush 1 side of remaining cake slices with liqueur, brushing golden sides of top and bottom slices, not the brown sides. Cover dessert with these, liqueur-side down and cutting to fit. Trim side pieces of cake to make them even. Cover with clear plastic wrap and refrigerate overnight.

5 To finish dessert, prepare white chocolate coating. Place 2 oz (60 g) white chocolate in refrigerator for grating over the coated dome to create a "snowy" effect. Finely chop remaining chocolate. It must be finely chopped. Place in a medium-size microwave-safe bowl. Heat reserved 1/3 cup (80 mL) cream in a small saucepan just until bubbles appear around the edge. Pour over chocolate and let sit 30 seconds.Starting at the centre of the bowl, gently and slowly stir chocolate with a spatula in small circles increasing to larger ones. If some chocolate remains unmelted, microwave on half power for 20 to 30 seconds, gently stirring every 10 seconds, until smooth. Refrigerate to thicken, but gently stir with a spatula every 10 minutes until thick enough to coat cake but still be pourable. This may take 20 to 30 minutes. Don't stir more than you have to.

6 Meanwhile, invert cold dessert onto a serving plate a little wider than bottom of dessert. Remove bowl and plastic wrap. Place plate on a piece of waxed paper to catch excess chocolate. Very slowly and gradually pour chocolate over the dome, smoothing when necessary with a thin metal spatula and letting excess drip over the sides of the plate. Refrigerate until firm, at least 3 hours or overnight. Just before serving, grate reserved cold chocolate over the dome. Place a few berries at the top of the cake, scattering the rest around the base.

GOLDEN POUND CAKE

Originally it took a pound each of butter, sugar, flour and eggs to create this baker's classic. While not arduous to remember proportions, it is this simple loaf cake's addictive buttery taste and fine moist texture that has kept it on the hit parade. Besides being used in our Hazelnut Cream Florentine Cake, this cake is a good keeper and freezes superbly—ever ready to thinly slice for noshing with coffee or thickly slice to top with fruit.

4 eggs
3 egg yolks
1 cup (250 mL) unsalted butter, at room temperature
½ tsp (2 mL) salt
1 cup (250 mL) granulated sugar
2 tsp (10 mL) pure vanilla extract or 1 tsp (5 mL) each of vanilla and pure almond extract
2 cups (500 mL) all-purpose flour
1 Preheat oven to 325°F (160°C). Spray or oil a 9 x 5-inch (2-L) loaf pan.

2 In a bowl, whisk whole eggs and egg yolks together. Set aside.

3 In a deep, medium-size bowl or the bowl of a stand mixer, beat butter and salt at medium speed until creamy. Continuing to beat, gradually add sugar, then beat until very light in colour, about 5 minutes, stopping to scrape down the sides of bowl several times. Reduce beating speed to low and gradually pour in eggs, then vanilla. Beat 3 minutes.

4 Gradually sift in about a quarter of the flour, then use a large spatula to fold it in. Repeat additions, blending after each.

5 Scrape batter into the prepared pan and roughly smooth surface. To remove air pockets, bang pan on counter several times. Place in the centre of oven and bake 30 minutes. Then lay a piece of foil loosely overtop. Do not seal. Continue baking until cake starts to come away from the sides of the pan and a thin knife inserted in the centre of the cake comes out clean, from 30 to 40 more minutes. A crack will form on the top of cake, which is characteristic of pound cakes.

6 Remove pan to a baking rack and cool 20 minutes before running a thin knife around the sides of the pan. Turn cake out of pan, then turn it domed-side up and cool on the rack. Cake will keep well 4 to 5 days in an airtight container at room temperature.
SHARE