Guacamole
Early Summer 2015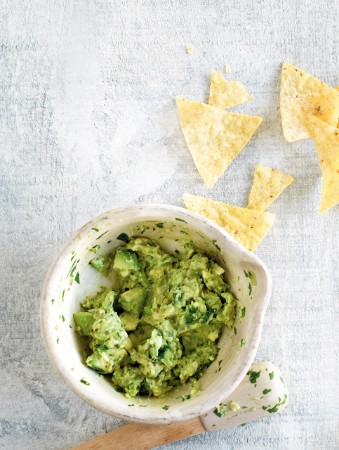 Guacamole
Early Summer 2015
BY: Eshun Mott
Since avocados can yield different quantities of meat, and jalapeños vary greatly in their level of spiciness, be sure to taste your guacamole as you go and adjust as needed to get a balanced flavour.
2 tbsp (30 mL) finely chopped white onion
2 tbsp (30 mL) coarsely chopped cilantro
1 tbsp (15 mL) finely chopped, seeded jalapeño
1 tsp (5 mL) finely chopped garlic
Salt
2 medium avocados, pitted, peeled and coarsely diced
1 tbsp (15 mL) fresh lime juice
1 Combine onion, cilantro, jalapeño, garlic and a large pinch of salt in a large mortar or a mini food processor, and use the pestle (or pulse) to mash into a coarse wet paste. Add avocados and lime juice and stir, mashing lightly until fully combined but still chunky. Season with salt to taste. Serve immediately with tortilla chips.
SHARE