Gruyère & Raisin Bread Sandwiches
Holiday 2010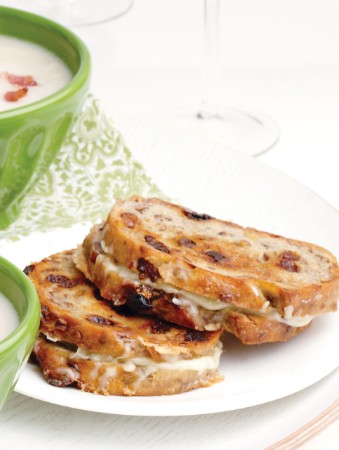 Gruyère & Raisin Bread Sandwiches
Holiday 2010
BY: Tonia Wilson-Vuksanovic
Keep these ingredients on hand for a quick and delicious accompaniment to pull together while the soup is heating up. The combination of sweet raisins and nutty, savoury cheese makes this twist on the classic grilled cheese addictive. If you're looking for an interesting substitution for the ketchup, try mango chutney or a little Piccalilli relish.
4 tsp (20 mL) unsalted butter
8 slices good-quality raisin bread
2 cups (500 mL) Gruyère cheese, grated, loosely packed
1 In a large skillet over medium-low heat, melt 1 tsp (5 mL) butter. Once melted place 2_pieces of bread in pan. Top each slice with 1/4_ cup(50_mL) grated cheese. Top with another slice of bread and cook until bottom slice becomes golden and the cheese begins to melt. If the butter is browning too quickly lower heat.

2 Remove sandwiches from pan, add another 1 tsp (5 mL) butter and flip sandwiches over back into pan. Finish cooking until golden.

3 Repeat steps 1 and 2 with remaining 2 sandwiches.


SHARE