Ground Turkey And Spinach
Holiday 2008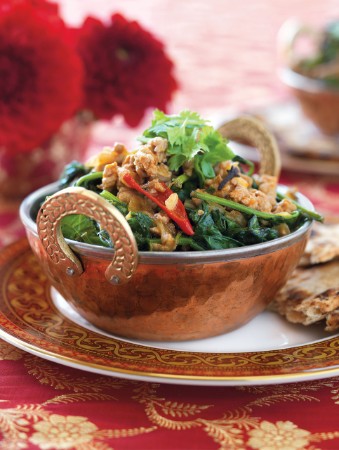 Ground Turkey And Spinach
Holiday 2008
As this is the holiday season, Hemant makes this dish for his family. It is easy and tasty and has a real holiday spirit about it.
¼ cup (50 mL) canola oil
3 cloves
2 green cardamom pods
1-inch (2.5-cm) cinnamon stick
1 bay leaf
1 tsp (5 mL) cracked black peppercorns
2 cups (500 mL) chopped onions
1 lb (500 g) ground turkey
2 tsp (10 mL) garlic purée
2 tsp (10 mL) ginger purée
1 cup (250 mL) chicken stock
2 red Thai chillies, cut lengthwise and seeded
Salt to taste
3 tbsp (45 mL) tomato paste
5 oz (150 g) fresh baby spinach (about 4 cups/1 L)
½ tsp (2 mL) garam masala
2 tbsp (25 mL) chopped coriander
1. Heat oil in a deep sauté pan over medium heat. Add cloves, cardamom, cinnamon, bay leaf, and cracked black peppercorns and sauté for 30 seconds or until they crackle. Add chopped onions and sauté for 15 minutes or until softened and light brown in colour. Add turkey and sauté for 2 minutes or until it looses its rawness.

2. Add garlic and ginger purée and sauté for 2 to 3 minutes. Add chicken stock, tomato paste and chillies and bring to a simmer. Cook gently for 8 to 10 minutes or until the turkey is cooked through. Add baby spinach and cook for another 2 minutes until it is wilted.

3. Sprinkle with garam masala and chopped coriander leaves and season with salt to taste. Accompany with chapattis, naan or any other bread.
SHARE