Grilled Thai Shrimp and Mango
Summer 2002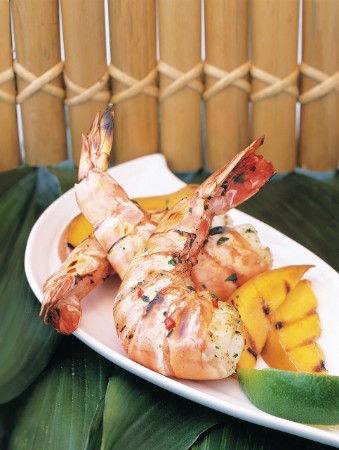 Grilled Thai Shrimp and Mango
Summer 2002
BY: Heather Trim
If you're not familiar with some of these ingredients, look for them in the Asian section of the supermarket. Lemongrass can be found in the produce section or in greengrocers. Jalapeño or serrano chilies work well in this dish. If serving as an appetizer use extra-large peeled shrimp.
4 to 6 shell-on tiger shrimp, about 1 lb (500 g)
3 large limes
1 stalk lemongrass
1/4 cup (50 mL) finely chopped coriander
1 1/2 tbsp (22 mL) each finely minced hot chili pepper and ginger
1 tbsp (15 mL) peanut or vegetable oil
1 tbsp (15 mL) fish sauce
1 tsp (5 mL) granulated sugar
1/2 ripe but firm mango
2 tbsp (25 mL) finely chopped fresh mint
1. Make a lengthwise cut down the back of shrimp shells and remove vein. To allow the marinade to penetrate and cook shrimp more evenly, after removing the vein make the cut a little deeper. Cut 1 lime into wedges. Set aside. From remaining 2 limes, finely grate 1 tbsp (15 mL) lime peel and squeeze out 1/4 cup (50 mL) juice. Place juice and peel in a medium bowl. Remove outer husks from lemongrass and finely chop bulb only. You should have about 3 tbsp (45 mL). Add to lime along with coriander, chili, ginger, oil, fish sauce and sugar. Stir to combine. Add shrimp and push marinade under shell next to shrimp. Marinate, covered and refrigerated for about 1 hour. Meanwhile, peel mango (if you wish) then thinly slice into wedges.
2. Grease grill and preheat barbecue to medium-high. Thread shrimp, randomly alternating with mango onto skewers. Sprinkle exposed part of shrimp lightly with salt. Place on grill and barbecue until shrimp meat is white and grill marks appear, about 3 minutes a side. If you choose not to skewer shrimp and place directly on the grill, add mango after 4 minutes of barbecuing.

3. Serve shrimp on a bed of rice, scatter with mango slices and reserved lime wedges. Sprinkle with mint.
Serves 2 as a main course
SHARE