Grilled Shrimp Caesar Salad
Winter 2001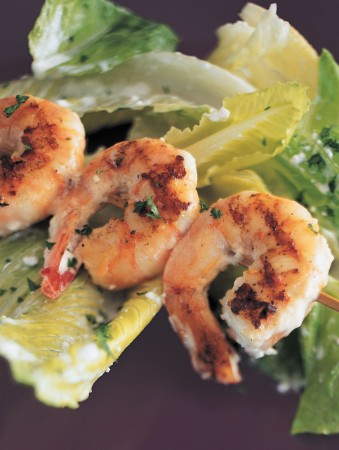 Grilled Shrimp Caesar Salad
Winter 2001
BY: Lucy Waverman
To cut calories, the dressing is made with low-fat cottage cheese and low-fat mayonnaise instead of egg yolks and oil. It is very similar in taste to the real thing with about one quarter of the calories.
Dressing
1/4 cup (50 mL) 1% low-fat cottage cheese
1/4 cup (50 mL) low-fat mayonnaise
2 anchovies, chopped
2 tbsp (25 mL) lemon juice
1/2 tsp (2 mL) Worcestershire sauce
1 tsp (5 mL) chopped garlic
1 tbsp (15 mL) olive oil
2 tbsp (25 mL) grated Parmesan
Freshly ground pepper

12 large shrimp, peeled
1 head romaine lettuce, washed
2 tbsp (25 mL) chopped fresh parsley
1. Purée cottage cheese, mayonnaise, anchovies, lemon juice, Worcestershire, garlic and olive oil in food processor until smooth. Stir in Parmesan and pepper. Season to taste. If dressing is too thick, thin down with a little warm water. Toss shrimps with 1/4 cup (50 mL) dressing. Marinate for 30 minutes. Tear romaine leaves removing the thickest part of the stem. Toss with remaining dressing.
2. Preheat broiler or grill pan on medium-high heat. Drain shrimps and broil or grill about 1 1/2 minutes per side, or until pink and slightly curled. Divide salad among 4 plates and top each salad with 3 shrimp. Garnish with parsley.
SHARE