Grilled Lamb Chops & Tomatoes with Cashew Chimichurri
Early Summer 2020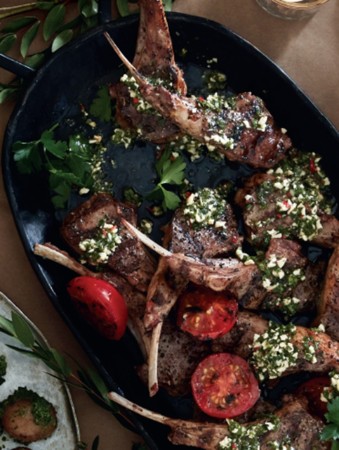 Grilled Lamb Chops & Tomatoes with Cashew Chimichurri
Early Summer 2020
BY: Irene Matys
With grilling season upon us, lamb chops are easy to prepare, quick to grill and perfect to serve large groups for special gatherings. A topping of summer herb and cashew chimichurri gives them a fresh and flavourful nutty taste. Serve with grilled tomatoes for a smoky and naturally sweet accompaniment.
CASHEW CHIMICHURRI
¼ cup (60 mL) cashews
½ cup (125 mL) Italian flat-leaf parsley, finely chopped
¼ cup (60 mL) cilantro with stems, finely chopped
1 tbsp (15 mL) fresh oregano, finely chopped 2 tbsp (30 mL) fresh mint, finely chopped
4 garlic cloves, minced
1 tbsp (15 mL) red chilies, seeds removed and finely chopped
¾ cup (175 mL) extra virgin olive oil 3 tbsp (45 mL) red wine vinegar
1 tsp (5 mL) salt 
30 Ontario lamb chops, at room temperature Salt and freshly ground pepper
10 Campari tomatoes, halved
1 To make the chimichurri, place cashews in a blender and pulse until finely chopped. Place chopped cashews in a medium glass bowl and add remaining ingredients. Mix well and set aside.
2 Preheat grill to high heat and grease grill to avoid
3 Lightly season lamb chops on each side with salt and freshly ground pepper. Place the lamb chops on the grill and cook for 2 minutes per side for medium-rare, or cook longer for desired Remove from grill, cover with aluminum foil and let rest while you grill tomatoes.
4 Keeping heat to high, clean and grease grill. Grill tomatoes, cut-side down, for 2 minutes.
5 Arrange lamb chops and tomatoes on platter. Drizzle lamb chops with chimichurri, reserving ½ cup (125 mL) to serve alongside.
SHARE