Grilled Corn, Spinach and Bacon Salad
Summer 2002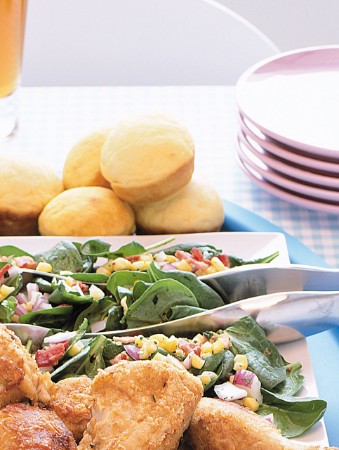 Grilled Corn, Spinach and Bacon Salad
Summer 2002
BY: Lucy Waverman
This is a perfect summer salad using the freshest corn, lightly grilled, and just picked baby spinach. If tiny spinach is not available, use regular spinach and sliver the leaves.
4 ears corn
2 tbsp (25 mL) olive oil
6 slices bacon, diced
6 cups (1.5 L) baby spinach
1 cup (250 mL) chopped red onion

Lemon Honey Dressing
2 tsp (10 mL) grainy mustard
1/4 cup (50 mL) lemon juice
2 tbsp (25 mL) red wine vinegar
1/4 cup (50 mL) olive oil
1 tbsp (15 mL) honey
Salt and freshly ground pepper
3 tbsp (45 mL) chopped parsley
1. Brush corn with 1 tbsp (15 mL) oil.
2. Preheat grill. Grill corn about 5 minutes or until some of the kernels are golden. Turn occasionally. Cool and scrape kernels off of the cob with a sharp knife. Place in large bowl.
3. Heat remaining 1 tbsp (15 mL) oil in skillet on medium heat. Add bacon and sauté until bacon is crisp.
Remove with slotted spoon and drain on paper towels. Add bacon to corn. Toss in spinach and onion.
4. Whisk together mustard, lemon juice and vinegar. Slowly whisk in olive oil and honey. Season with salt and pepper. Stir in parsley.
5. Toss salad with dressing just before serving and arrange on platter.
SHARE