Green Curry Chicken Satay
Summer 2004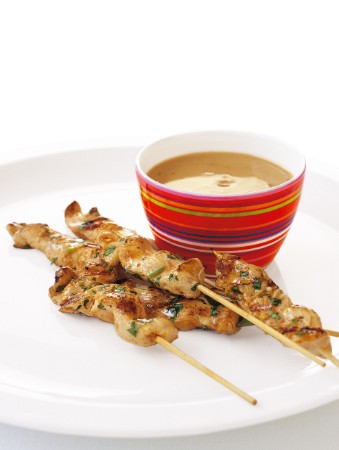 Green Curry Chicken Satay
Summer 2004
BY: Heather Trim
Commonly eaten in Southeast Asia, satay is usually threaded onto wooden skewers. Make sure to soak the skewers in water for at least 20 minutes before using.
One 400 mL can coconut milk
Juice of 2 limes
3 tbsp (45 mL) Thai green or red curry paste
2 tbsp (25 mL) fish sauce
4 tsp (20 mL) granulated sugar
4 skinless, boneless chicken breasts
Salt
Chopped coriander
Peanut sauce (optional)
1 lime (for garnish)
1. In a large bowl, whisk coconut milk with lime juice (should be approximately ¼ cup (50 mL), curry paste, fish sauce and sugar until mixed. Cut chicken into thin strips, about ½-inch (1-cm) wide. Place in coconut milk mixture and stir to evenly coat. Cover and refrigerate at least 4 hours, but preferably overnight. If you've used regular (not light) coconut milk, marinade may be thick when you remove it from the refrigerator. Simply leave on a thin coat when barbecuing.

2. Lightly oil grill and preheat barbecue to medium-high. Thread chicken onto skewers. Sprinkle lightly with salt. Place on grill and barbecue, turning occasionally for 7 to 9 minutes.

3. Cut remaining lime into wedges. Serve chicken on a platter sprinkled with coriander. Scatter lime wedges on top for squeezing on satay. Serve with peanut sauce, if desired.






Serves 4 as a main course and 6 to 8 as an appetizer
SHARE