Gold Leaf Wine Jelly
Holiday 2006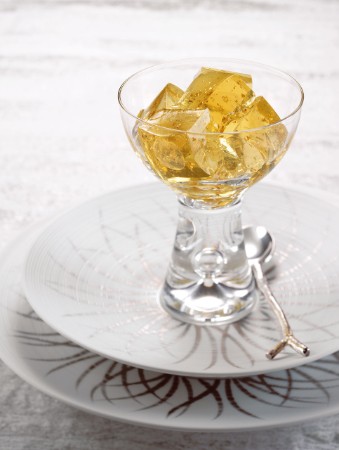 Gold Leaf Wine Jelly
Holiday 2006
BY: Jennifer McLagan
This simple sweet wine jelly is made special with the simple addition of edible gold flakes. It can be served on its own as dessert or as an accompaniment to foie gras.
3 cups (750 mL) sweet wine
Two envelopes plus 1 tsp (5 mL) unflavoured gelatin
½ cup (125 mL) sugar
1 tsp (5 mL) edible gold flakes
1. Pour ½ cup (125 mL) of the wine into a small bowl and sprinkle over the gelatin. Leave for 5 minutes to allow the gelatin to swell.

2. Place sugar in a small saucepan, add ½ cup (125 mL) water and bring slowly to the boil, stirring to dissolve the sugar. Boil for 1 minute, and then pour over the gelatin-wine mixture to dissolve. Return the mixture to the saucepan and heat gently until the liquid is crystal clear. Add the remaining wine.

3. Pour the mixture into a large measuring cup and refrigerate until it begins to thicken, about 1½ to 2 hours. Stir in the gold flakes.

4. Rinse out a 9 x 9-inch (23 x 23-cm) glass pan with cold water. Pour in the jelly and chill until set. Turn out the jelly onto wet surface, and with a wet knife cut into cubes.
SHARE