Goat Cheese Quenelles with Olive Toasts
Autumn 2000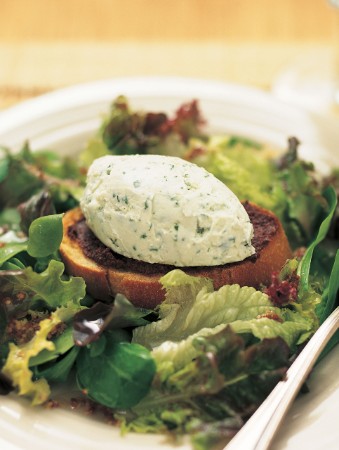 Goat Cheese Quenelles with Olive Toasts
Autumn 2000
BY: Lucy Waverman
Quenelles are an oval-shaped, delicate fish mousse often served as a first course. Our version features an optical illusion - creamy goat cheese shaped like a fish quenelle. To make them, place goat cheese mixture in one oval spoon and use a second one to finish moulding the mixture.
1 cup (250 mL) goat cheese
3 tbsp (45 mL) whipping cream
2 tbsp (25 mL) chopped parsley
1 tbsp (15 mL) chopped fresh chervil or basil
1 tsp (5 mL) cracked white peppercorns
4 slices toasted French stick
¼ cup (50 mL) olive paste
8 cups (2 L) mixed fall lettuce such as arugula, oakleaf, frisee,
radicchio, romaine

Dressing
3 tbsp (45 mL) white wine vinegar
1 tsp (5 mL) grainy mustard
½ cup (125 mL) olive oil
Salt and freshly ground pepper


Garnish
Chervil sprigs
1. In a bowl combine goat cheese, whipping cream, parsley, chervil and peppercorns. Reserve.

2. Spread slices of French stick with olive paste. With two oval tablespoons mould goat cheese mixture into quenelle shape and place on each toast.

3. Place lettuces in bowl. Whisk together vinegar and mustard then slowly whisk in olive oil. Season with salt and pepper. Toss half of dressing with salad.

4. Place salad on 4 serving dishes. Place toasts with quenelles in centre. Sprinkle with chervil and drizzle remaining vinaigrette around plates.
SHARE