Goat Cheese, Dill and Lemon Spread with Lavash
Winter 2002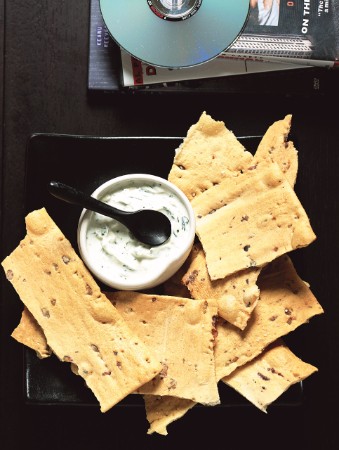 Goat Cheese, Dill and Lemon Spread with Lavash
Winter 2002
BY: Heather Trim
This five-minute dip is especially good served with lavash, a flat cracker-like bread, but any crisp cracker will do. The spread can be made a couple of days in advance. Simply cover and refrigerate.
8 oz (250 g) plain creamy goat cheese
1/3 cup (75 mL) plain yogurt
1 large garlic clove, minced
Finely grated peel of 1 lemon
1 tsp (5 mL) freshly ground black pepper
3 tbsp (45 mL) coarsely chopped fresh dill

Garnish
Dill sprigs or lemon peel
Lavash, broken into large pieces
1. In a medium bowl, using an electric mixer or wooden spoon, beat goat cheese with yogurt, garlic, lemon peel and pepper until well combined. Stir in dill. Scrape into a serving bowl.

2. Garnish with sprigs of dill or lemon peel. Serve with lavash.
SHARE